Sep 07, 2007

The Pashtun outlands, Pakistan
In a shocking turn of events that's sure to rock the recording industry to its very core, the highly reclusive Osama Bin Laden has announced that he's coming out of retirement and will challenge 50 Cent and Kanye West for the #1 Billboard spot on September 11th. This surprise return to recording by Osama Bin Laden immediately set news outlets on fire (literally) with every reporter in the world speculating on the content of the newest "Bin Laden tape". In a rare sit-down interview with the original "9/11 mastermind", Ohword was able to find out more about this long awaited release as Bin Laden went on record about his art, his life and why Al Qaeda still ain't nothing to fuck with.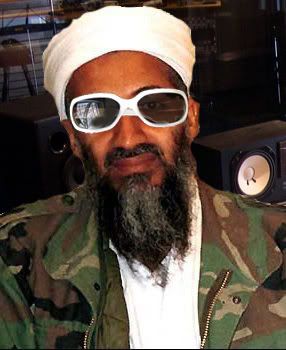 Osama in the studio
"The game's been real weak younkowhatImsayin? I was enjoying my little vacay but all this talk I hear about terrorism being dead? Shit, I had to come back and slap fire out of these punks' mouths and show em how it's done, Inch Allah."
The iconic Bin Laden claims he felt disrespected that 50 Cent and Kanye would try to steal "his day" to release their newest albums, opining that he was the one responsible for making 9/11 such a historic date.
"It was me and Jay, homie. 6 years ago, it was on and poppin and we dropped some serious life changing material, stuff that really affects you in your soul and changes the way you look at the world. I still listen to the Blueprint to this day and you KNOW cats is still feeling my shit. These new ringtone rappers…I don't see them building on that and to just go and steal our day…it feels like disrespect my man. Straight up and down, God will punish their decadent souls."
Recorded during top secret sessions in Atlanta, Miami and Islamabad, Bin Laden assembled a top notch crew of producers and musicians to realize his vision for the next great leap in recording.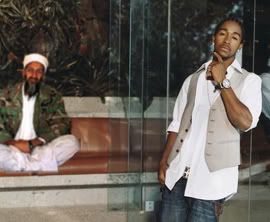 Bin Laden and Omarion pose for a rare photo op
"I needed some next shit. I can't keep coming back with the same steez. The industry is hurting right now with downloading and security around tall buildings n' airports being up. I just had to go back to the lab and dig deep to find the essence of what we do. Then, when I was ready I made a list of people I wanted and (manager) Abu made it happen. It was all very natural.
"I got Polow da Don and Omarion on there. Polow just came with that PIFF! Some real high energy tracks for the club! Danjahandz gave me a banger, he works with Timbaland. I also got this remake of Juicy on there where we sampled Biggie. You can guess which lines. I was in Miami with J.R Rotem and the Bacardi was flowing, the infidels were dancing and the vibe felt right (may their souls burn in a thousand hells). It's a hot track."
Conspicuously absent is Bin Laden's original Al Qaeda crew. For years, rumors have floated that not all was well in the camp and that Bin Laden had become disconnected from his crew. When asked for comment, a frustrated Osama was quick to dispel the rumors.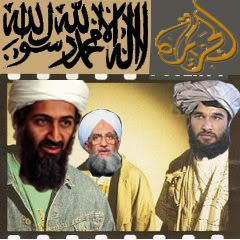 The cover of Al Qaeda's iconic first album released at the height of the early 90's
"Al Qaeda ain't nothing to fuck with youknowwhatimsayin? We're all out doing our little solo Jihads right now but when it comes time to connect it's going to be ON. I just spoke to Al Zawahiri and Mullah Omar and once I'm done with the promotional run for my album, we're going to hit the studio. I want to call the album "Return of the Prophets" and really take it back to that oldschool vibe, straight up car bombing military bases and embassies. Maybe get Brand Nubian on a track cuz we're all Gods."
Still, the loss of key members weighed heavy on Bin Laden's mind.
"I cried when I heard Al-Zarqawi died. It was such a senseless act. You know every day us terrorists have to watch our backs for the cops, stick up kids, haters…it's got to cease. I've got a track on my album dedicated to that kid called "Life goes on (72 Virgins)" with Wyclef on the beat, Justin Timberlake on the hook and Talib Kweli dropping a real conscious verse. I just want the world to remember him for who he was and to realize that life is precious."
Though Al Qaeda isn't featured on any tracks and the style is updated, Bin Laden remains enthusiastic that fans will accept the new, more uptempo record.
"I had to have my Lil Wayne drop. That guy is AMAZING, I texted him and he told me to send him the track, 30 minutes later he sent it back with this NASTY verse! I got Akon and T.I on the remix to my first single "Still Dropping Bombs", that's already got 500 spins on the radio. It feels good to have that kind of success 6 years later because this industry is cut throat and if you're not out there like that, the fans forget about you. That's why I had to come with this new sound, I mean a couple of cats up north might give me some static but to me, I've been there and done that. I've already made my NY Anthem and right now, the South's hot so that's where I'm at. Plus I still have my Just Blaze banger just in case people want to front.
In the end, Bin Laden reflected on his accomplishments and how his newest recording fits into his legacy:
"You know, I knock 50 and Kanye but I think they're alright. They're just starting. But with me, I remember being up in the clubs in the 70's and out grinding in the streets in the 80's so it's all old to me. I just had to come back and solidify some things just so people remember who started this terror shit. Come September 11th, people will have to recognize the architect of this shit. No seriously, avoid tall buildings and planes."
"Oh, and FUCK Kenny Chesney."
Comments for "EXCLUSIVE: Osama Bin Laden enters race for #1 Billboard spot!"