Joe Fatal, Folk Hero
posted on Sep 27, 2005
Main Source f. Nas, Joe Fatal, and Akinyele (Link Expired)
Main One feat. Fat Joe, Kurious, Joe Fatal and Prince Power Rule - El Gran Combo (Link Expired)
MC Serch f. Joe Fatal - Social Narcotics (Link Expired)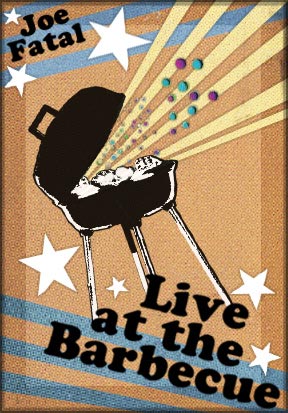 ---
Many Brothas Envy…
The typical classic posse cut or stellar debut guest appearance can serve (especially under the safety blanket of geeked retrospect) as a glimpse into future revolutions in superrappin'. Even if the track is besmirched with overambitious promises to usher in a rapturous ghetto futuristic age—- Ahmad's guarantee of "twenty-fifth century rhymes" on "Comewiddit" weren't exactly brought to fruition on his wondrous one-hit cakewalk through "Love T.K.O." for example—-we remain fascinated with the rise of phenoms from left field.
While rappers like Canibus and AZ are widely viewed as both victims of unjustly high expectations as well as squanderers of god-given talent, their moments of emergence are still looked upon as legitimate milestones. Headz tend to immortalize and heroize the introverted kid in the back of the crumbling special-needs classroom for several years after the masses have stopped checking for his middling output. Even in their tragically fleeting ascent, such wunderkinds represent, to borrow the words of one Charlie Brown, (perhaps a begrudging, envious nod to partner Busta's legendary "Scenario" stomp) "the newest, the NEXTest." These cats are the reason to follow this rap sh*t closely when there's a million suckaz out there flakin' and perpetratin'.
And yet there is still that NEXT next level that beckons us: the seemingly unattainable apex of shown skill, the intangibly classic debut. The singularly dope guest appearance that touches down on terra firma and obliterates every previous species of rapper. The prelude to an indisputably classic, definitive, unfuckwitable LP. Sure, Pharohe Monch sounds convincing enough when he tells us that no mortal could plausibly grab the mic after the completion of his Stress verse. But with all due respect to Monch, the least listened-to and most often rewound-before-having-been-heard moment in rap history occurs just after an adolescent Nasir Jones, guesting on Main Source's "Live At The BBQ," informs us that his "voicebox locks and accels like a rocket." After that, there is endless, impenetrable, incomprehensible void (I just barely resisted the urge to write "ether"). We bore witness, not simply to the worthy heir to Rakim's crown or the newest believable hype, but to a lyricist who would be recognized for lasting greatness. The Nextest of the Next. But let us pause for the cause right there.
The purpose of this feature is not to pile praise onto the overexposed life and times of AmeriKKKa's favorite chip-toothed rebel. Now cipher. The main objective here is to examine the career and personality that was overshadowed, outshined, and exiled from collective consciousness as a result of Nas's first foray into hysteria causin'. Contrary to popular belief, somebody dared to rap after Nas on "Live At the BBQ. This somebody is "Joe "Fatal" Burgos, who remains an enigma or at best a glossed over footnote to most. Behold the rise of the other brand of prodigy: the unfairly marginalized and obscure rapper.
Joe Fatal's "BBQ" verse is ill, no question. He takes Pete Nice's affected gruff, adds some edge to the delivery, flexes a little 5% terminology, and drops a few clever pop culture referencing punchlines. When examined independently of Nas's debut verse and within the context of the '91 rap scene, it becomes a respectable, even noteworthy verse. Even the rhyme's flaws speak to the arrival of the type of intense and embattled character that would soon become the preoccupation of rap's ever-widening fanbase.
You see, Fatal is both "Merciful" (his godbody attribute) and inclined to "show no mercy" in the very next line; such ambiguity seems to anticipate the conflicted Escobarian thug persona that would come to dominate rap on both coasts in the late 90s. Fatal's BQ" verse, as well as his overachieving cameos on the largely forgettable solo efforts of MC Serch and Main One, solidifies his places as a man "of the culture," (to borrow a phrase from the erudite and historically aware Damon Dash) a visionary just as rooted in this rap shit as his more celebrated counterparts.
How deep does the Joe Fatal story run? One needs to look no further than rap's favorite toughnerd, producer extraordinaire, milker of cows, hitter of heifers, and the scientifically proven best producer on the mic, Q-Boro's own Extra P. The Large Pro recounts: "I was at the New Music Seminar and Joe Fatal told me Paul C was dead because he heard it from Rakim. I didn't think it was real. I tried to call him and call him and then I called 1212. I spoke to Paul every day back then, every day" (source: http://crunkster.abstractdynamics.org/archives/003807.html).
Being the unlucky messenger of the untimely and shocking demise of hip-hop's greatest overlooked figure is no meager coinky-dink. Fatal's role in the history of this rap shit deserves plenty props. After all, his words of condolence to Large Pro must have been more poignant than former EPMD crates-carrier Stezo's dumbfuck "Him? Naah … I wasn't worried about him dyin'. Not Paul," a statement undoubtedly accompanied by the unspoken thought "I was too preoccupied with anxiety about my mistake-of-a-career keeling over before it even began… thanks heavens my beats are slammin'."
But who is Joe Fatal, exactly? A simple Google search of "Joe 'Fatal' Burgos" has yields some surprising answers. These tidbits, when amassed, suggest that Joe Fatal is something of a hip-hop Forrest Gump figure, an obscure, perhaps unwitting hero of Queensbridge folklore. He is, at the very least, a more pivotal figure in the creation of legendary posse cuts than his barely recollected stint as Mr. Jones' second banana clip suggests. According to an interview of MF Grimm, Fatal introduced Grimm to Kool G. Rap, and this meeting spawned the overlooked "Take 'Em to War" cut from 4,5,6. After crediting Fatal for the hook-up, and describing the Kool Genius as well, "cool," Grimm shamelessly begs the interviewer to ask Kool G. Rap his opinion of MF Grimm.
This proved to be an embarrassing and futile, if amusing gesture, as G. Rap's memory of Joe Fatal seems to more acute than his recollection of Grimm. In an interview from UA Journal, G. Rap big ups Fatal for introducing him to a very young Nasir Jones back in the salad days of '88, paving the way for the other, more acclaimed collabo from 4,5,6 the classic (once remixed by Buckwild, Vinyl Reanimators, and others gracious enough to give the original track a facelift) "Fast Life."
Grimm may well be used to living in Fatal's shadow. According to an interview on checkoutwax.com, Grimm's scheduled appearance on Live at the BBQ was never to be, and for entirely understandable reasons. "I got locked up beating this guy up in an auto accident I was in with Joe Fatal. Joe Fatal got out and went in with Large Professor, I was still in (lock up) and got out too late." Grimm adds, delusionally, "[Live At The BBQ] was already done, and YES I would've destroyed it but then it would've altered musical history in hip-hop because the song is a classic," as if to suggest that a man tangentially connected to another man not famous for getting outshined by Nas might have become prominent like Shakespeare simply by rapping alongside Nas, had his plans not been foiled by a fender bender and subsequent altercation. Take a minute to think about it; homie is a few extortion threats short of an LP executive produced by Eric B.
Despite Grimm's failure to wreckonize, Fatal stands to this day as a catalyst, both direct and indirect, for careers in rap. Grimm's BBQ verse became the basis for his first 12" "So What You Want Ni&*ga?" and by extension, a sustained underground reign. This should come as no surprise, really; Fatal was already partly responsible for jumpstarting the career of another underground legend, the Imam thug known as Intelligent Hoodlum, or Tragedy, or Tragedy Khadafi. At least one online article suggests that Fatal, known in the late 80s as "Tragedy's DJ" (as attested to by the closing shout-outs on Lord Finesse's "Slave to My Soundwave") helped to sway the young Percy Chapman, then discouraged by a bullshit bid that threatened to drop his rising star, towards a serious career in militant-minded rap.
Not even the feeble attempt at character assassination perpetrated by the good folks at spinemagazine.com, where it is claimed that "Pudgee The Phat Bastard wrote Joe Fatal's verse on 'Barbeque' but got no credit" can chip away at Fatal's legacy. Pudgee will never be the footnote of the Joe Fatal caliber. C'mon, could allegations of closeted homosexuality (especially in concert with the even sadder reality of deserved obscurity) ever compete with production credits on Fat Joe's sophomore effort and a current position as co-publisher, along with wifey Camille, at hip-hop/porno mag Fish-N-Grits?
You heard correctly. The adult publication that prides itself as the point of convergence between music and porn is the brainchild of Joe Fatal. Ever poetic in the '04, Fatal, the true Melvyn Flyntt, asserts in an interview from The Elements that "Fish'N'Grits represents everything to Urban America – a cost effective, satisfying, delectable, staple of Urban culture – a simple down home delicacy." This penchant for science droppin' is a reflection of the awesome power of persuasion that was needed for Fatal to convince his future wife, veteran music industry move-maker Camille, that the venture was legitimate, lucrative, and culturally relevant. In an interview from TheIndustryCosign.com Camille Burgos descibes how Joe's way with words allowed them to pursue the dream that might see them livin' larger than the founders of Fendi: "Joe "Fatal" and I met over 10 years ago in the music industry. 2 years ago he came to me with this vision and after a year of trying to convince me…(Laughing) ... inevitably I got his vision and saw the lack of representation in porn for women of color."
Like, WHOA. It is one thing to address the dearth of dark-skinned starlets in mainstream smut rags and skin flicks. Hell, you don't need to convince me that Vanessa Blue should be putting out more DVDs. However, it takes a superhuman visionary to talk his future wife into risking their future financial security to alleviate racial disparities in porn media. Let the God Merciful take charge.
Comments for "Joe Fatal, Folk Hero"