Time Travelin' with the Genius
posted on Sep 19, 2005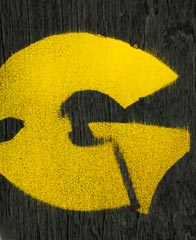 In this previously unpublished interview from 2002, the Genius sat down with Kevin Beacham to discuss the path to Wu-Tang and the origins of a great MC. Illustrations by agent b.
What's your earliest hip-hop memory?
I guess it goes way back to when I was child attending the block parties. At that time a few brothers used to get on the mic. Ever since I saw a brother rock the mic, that was it.
Around what year was this?
This is in '76, '77. When I started rhyming there were probably only two MCs in that whole borough of Shaolin [Staten Island]. That was way back. I was doing it before it even hit wax, before "Rapper's Delight" and all that.
Since you had such an early start, who would you consider your influences and inspirations?
There were many in a sense, many different MCs – known and unknown – that kind of inspired a brother. I used to travel from Shaolin to the South Bronx and at that time Shaolin was kind of behind compared to the Bronx. It was fascinating to see how many live MCs existed out there. At the same time we still had brothers making records. You had the Treacherous 3, Cold Crush Brothers, Fearless 4. I used to like Spoonie G. I grew up listening to a lot of those tapes that were made in Harlem World and those places where they would battle and they inspired me a lot.
Anyone particular from your neighborhood that was inspirational?
Back in Shaolin we had a brother called Punch and he was nice. There was another brother named Stevie Steve. Like I said, there were only two or three [MCs] out there and those were the two before I came along and started doing my thing. In the Bronx, a lot of MCs I didn't even know their names. There were so many that would get on the mic and they were so dope and their style was like… it was a mass of them. It was like Wu-Tang at that time out there.
Being based in Shaolin you pretty much got started on that scene around the same time as Force MCs [later called Force MDs].
Yeah, actually they formed their thing just a couple of years after I started rhyming. Mercury used to live on my floor. He passed away a couple of years ago. I was like 11 or 12 around the time I started rhyming. I don't even know if he was rhyming at that time. He may have started a year or two afterwards. It was definitely in that era that the Force started popping their thing off. I had moved from Shaolin by then and I remember seeing them on the boat all the time. The [Staten Island] ferry was a place of talent. You'd see all types of things on the ferry – all types of things in New York, period. We used to take the ferry boat from Staten Island to Manhattan. They would perform on the boat all time and make lots of money. The Force used to get busy 'cause they would do all these routines from Frank Sinatra to the Jacksons and be killing it. They were doing their thing for a while.
Actually, there's a Force MCs routine that I'm trying to find. I used to have it on tape in the early 80s. It was this routine to the Rocky Theme.
It was them? I remember another group from the Bronx. I had a tape and they were doing some routine off the same "Eye of the Tiger" flow and they were doing it off the "Love Rap" beat.
I'm pretty sure it was them because it was about their DJ, Dr. Rock.
He passed away too.
They had so many tragedies in that group.
Yeah, like three of them brothers returned [to the essence]. Dr. Rock used to get busy back then. They had so many routines. They were able to sing 'cause they had good voices and they mixed it with hip-hop. 'Cause Cold Crush was tearing it down with those routines back then. Cold Crush used to take certain songs from the 60s, a lot of pop and rock songs that some brothers had never heard before and they put them in routines. Like they had harmonizing "Fifty ways to rock a party, turn up the bass, Chase." They was hurting it. Then the Force came through with the real singing voices and the routines. I don't know if you ever heard that battle between the Force MDs and the Cold Crush Brothers. That was in '83.