White Boys - ...On A Mission
posted on Sep 10, 2005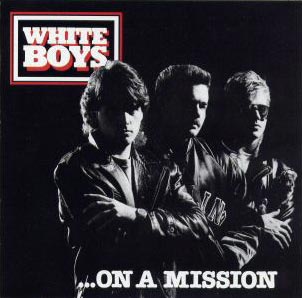 ---
There are a variety of reasons why many argue that 1988 was a pivotal year for hip-hop, but one of them is certainly its proliferation among suburban American teenagers, who embraced its rebellious lyrics and its parent-confounding music. Some of the causes for this infiltration were relatively accidental, like the crossover appeal of Public Enemy's It Takes a Nation of Millions... to heavy metal fans. Other causes were better engineered, like the debut of Yo! MTV Raps on cable television, which would beam the entirety of hip-hop culture into Middle America's living rooms. Understandably overlooked in most 1988 love-fests are those efforts that were both poorly engineered and ill conceived. A sub-set of this grand category includes those acts which were forward-thinking enough to perceive hip-hop's immanence but were too out of touch with the culture to capitalize on its cross-cultural voyeuristic appeal. The White Boys are supreme examples of this kind of failure.
A look at the cover almost tells the whole story of this unlikely trio: three mulleted refugees from the Cobra Kai Dojo in The Karate Kid, two in leather and one in a satin Carolina jacket, with their arms crossed in a defensive (and not "def') pose that screams, "I'm not paying more than twenty bucks for Motley Crüe tickets." (Special thanks to their stylist, Jenny Wong, is included in the liner notes.) Of course, mingling rock and rap had already been attempted successfully when Run DMC's vocals were melded with Steven Tyler's strained whine over Aerosmith's "Walk This Way." However, the gentlemen on the cover of this album are not spandex-wearing, feathered hair sissies, but true metal fans who wear acid-washed jeans and carry hairbrushes in their back pockets. That they hail from Queens, the same borough as Run DMC and Anthrax (who would be involved in the last successful mingling of rock and rap on a reprise of P.E.'s "Bring the Noise") only strengthens their place among the legacy of culture vultures who seek to use rap as a marketing tool without necessarily appealing to its existing fan base.
The opening and title track, which consists of the replayed loop from the Mission: Impossible theme song that must have been tired even in 1988, features a missive that attempts to absolve the producers of culpability:
"We've just received details of a plan by unfriendly elements to undermine the efforts of the hip-hop generation. Your mission, should you decide to accept it, is to overcome these elements… As always, should any of your crew be caught or killed, the producer will disavow any knowledge of your actions."
Nice try, buddy, but you don't get off that easily, especially when you are party to such bizarre songs like "Coolin' in the Crib," which I suppose is a kind of reverse-homage to the crass anti-commercialism of the Beastie Boys. It has a plodding rhyme style similar to that of "Slow and Low" without any worthwhile lyrics to speak of: "Lots of people go to clubs, chill around the way/ but the crib is the place that I like to stay/ I got a microwave oven, big screen TV/ steam room, sauna bath, water B-E-D." Somehow I get the feeling that you've got a lava lamp and a blacklight Iron Maiden poster in the crib, too. This is par for the course for the White Boys, who stunt on the Marley Marl-produced "Running the Show": "Stupid dope, however you describe it/ just like a beverage, you will imbibe it/ into your system, an injection/ This is '88, the year of an election." Uh, okay. Whichever candidate is for shutting up the White Boys is the one I'll vote for.
The White Boys aren't all high-class flossing and terrible similes, though. They've got a deeply political side, too, as evidenced on "Human Race," a Casio-driven reggae skank where the White Boys drop science over vocal delay: "It's real simple, I'll lay it on the line/ every person is equal, every one is mankind/ So why all the racial tension?/ And not only that, I think I'll mention/ Apartheid and the trouble overseas." Talk about delving into the issues. Luckily the grave profundity of the track is quickly counterbalanced by the party-friendly "Give Me What You Got," a track so terrible that I would not have mentioned it if Cutmaster D.C. was not credited as a co-producer. The White Boys show their true colors on the squealing ballad "Only a Dream," whose lyrics seem to be taken from a junior high school poetry competition:
"A state of depression, I was in/ until the recent reappearance of my girlfriend/ Gone for a while, but now returned/ and for the longest time, my body yearned/ for the feelings only we shared/ body to body, and we only stared/ deep inside each other's eyes/ and I became locked inside her thighs."
Dude, you got laid? Awesome!
Overall, this album is not as culturally offensive as it is dull and self-alienating, much like the moody metal head that sat in the back of the class throughout 8th grade. We all remember that 1988 was a highly disappointing year for fans of innovative, boundary-pushing rap, but the intrepid White Boys remained committed to musical innovation, reprising "Play that Funky Music" a full two years before Vanilla Ice. As the White Boys explain on "Listen Up": "Loud like thunder from way down under/ the wrath and the aftermath makes you wonder/ why you just left, or why you even came." Boys, you're reading my mind.
Comments for "White Boys - ...On A Mission"