Show / D.I.T.C. - Street Talk
posted on Nov 29, 2005
Party Arty - A Lotta Luv (Link Expired)
Party Arty - A Look At My Life (Link Expired)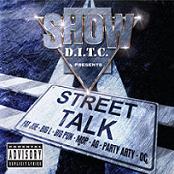 Show/D.I.T.C.
Street Talk
Wildlife Entertainment/ Lumber Jack Records, 2005.
Although they remain largely unacknowledged by the mainstream media, even in comparison to dark horses like Gangstarr, the Diggin' In the Crates Crew has been immeasurably influential on the NYC underground hip hop scene. By delving deeper than most into the ultra-obscure catalogues of largely forgotten funk, soul, and rock bands, D.I.T.C. showed that it was possible to create dope music to match most any mood or message. Their devotion to the sampling tradition, and more generally to a heavy Bronx b-boy aesthetic, complements the skill and sincerity of versatile emcees like Big L., A.G., and O.C. (and of course, Lord Finesse and Diamond D. themselves). More notably, the D.I.T.C. crew recorded some of the most poignant and timeless hip hop LPs of all time, an accomplishment that is due in no small part to the crew's willingness to balance artistic integrity with just enough populist sensibility to keep their names alive.
The times have certainly changed since Showbiz and A.G.'s Runaway Slaves set a new standard for versatility and quality in the context of a full-length release. Bass-heavy, moody, rap jams have been largely replaced by flamboyant, gaudy anthems and lyrics are typically more flashy than introspective. However, once must remember that D.I.T.C. have been dropping braggadocio over party grooves for quite some time. Perhaps out of necessity, Street Talk – a collection of tracks entirely produced by Show that mostly features the crew's second string rhymers – caters largely to contemporary sensibilities but in doing so the crew's influence on today's scene is made manifestly obvious. For the larger portion of the compilation, A-Bless, Party Arty, D-Flow, Milano and even A.G. give the people the borderline ign'ant street-centric punchlines and the nearly absurd multisyllabic rhyme schemes that they fiend for nowadays. Show's production is still grimy enough to stand out from today's glut of glitzy beats, with the notable exception of "Chase Game," which sounds so synthetic and corny that veterans O.C. and A.G. are helpless to save the song.
Out of the lesser known emcees, Party Arty emerges as the one potential star: with steals the show with his deadpan delivery of hilarious punchlines and surprisingly frank autobiographical narratives on songs like "A Lotta Luv" and "A Look At My Life." That's saying a lot when one considers that this release features verses from the deceased greats Big Pun and Big L (many of which have appeared on previous releases but still sound good here). Fat Joe (the D.I.T.C. member who has achieved the greatest commercial success over the years) sounds completely out of place and unenthused on all three of his appearances. He wastes space that might have been put to better use by Milano or A-Bless, both of whom could easily compete with the today's myriad of mixtape thugs. Street Talk stands as a belated vindication of D.I.T.C.'s unrecognized genius and foresight, as well as a testament to their ability to carve a niche for themselves in the ever-evolving scene that they helped to create. Few songs are spectacular on their own but the compilation is paced and sequenced competently and is sure to bang in the ride or the box.
Comments for "Show / D.I.T.C. - Street Talk"