J-Live - The Hear After
posted on Nov 29, 2005
J-Live - The Listening (Link Expired)
J-Live - Brooklyn Public (Link Expired)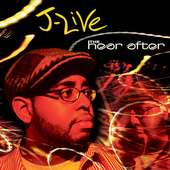 J-Live
The Hear After
Penalty Recordings, 2005
J-Live has fashioned a career out of his perpetual under-dog status, rhyming from the perspective of a committed and overworked independent emcee plagued by label woes and crushing indifference to his work ethic and output. This isn't a dis – he plays the part well and he is surely not the first to exploit the angle – but I wonder if his constant chronicling of his life as an artist is more stifling than generative nowadays. Although J-Live is clearly committed to refining his techniques while straddling the fine line between arts and entertainment, his wildly inconsistent beat selection and overemphasis on the trials and tribulations of rap artistry render his recent releases practically soporific. Though it pains me to make such an admission, The Hear After is yet another disappointing chapter in J-Live's body of work that is only salvaged by its greatest tracks ("Brooklyn Public" and "Listening") which stand so far above the rest of the offering that they feel more like aberrations than high notes.
"Brooklyn Public," a bittersweet piano-driven expose of the pitiful condition of NYC's public schools, and "Listening," a sensuous trade-off of reflective verses between J-Live and wifey Kola Roc, both possess a palpable human warmth that J-Live has hinted at for years but usually fails to achieve, especially where his conceptual pieces serve as extended metaphors for hip hop related topics. J should also be commended for being one of a very small group of emcees to directly address substandard education in inner-city schools in a creative and objective manner. Although a song's subject matter or mood cannot propel it into greatness, both of these tracks are greatly augmented by their intriguing narratives and easily comprehended, generalizable concepts. This is the J-Live we root for each time he drops an album.
Sadly, even a conceptually sound effort like "Sidewalks" cannot transcend its utterly bland backing track, no matter how hard it attempts to hint at the mid-80s electro-drum machine sound or how impassioned J sounds when he rips the mic. The Soulive-backed snoozer "Here" and the strident "Firewater" sound too much like uninspired imitations of artists like the Roots or Mos Def. These instances of mediocrity are especially disheartening when they originate in a an accomplished artist like J-Live. While I do not advocate a return to form for the mere sake of it, I cannot confidently state that J-Live's evolution as an artist has been altogether progressive. Better luck next time, J. We can only hope.
Comments for "J-Live - The Hear After"