Sadat X - Experience & Education
posted on Nov 29, 2005
Sadat X - God Is Back (Link Expired)
Sadat X f. Money Boss Players - Shine (Link Expired)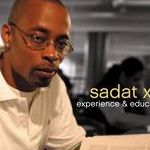 Sadat X
Experience & Education
Female Fun Records, 2005
Sadat X. has blessed listeners for fifteen years. He drops science and makes comically bizarre social observations in a highly distinctive, pleasantly conversational freeform style. He can muse on the streets, the workaday world, global politics, and scandalous hoes in a matter of lines. Even more impressively, he can convince you that his stream-of-consciousness makes perfect sense, if not as a linear commentary then as a nuanced musical expression. His unforgettable nasal flow, which he punctuates every other bar or so with awkward shifts in inflection and emphasis, dances around snares and shadows basslines and melodies.
Sadat is our down-to-earth Rammelzee, more inclined to immerse himself in the deeply corrupt world of human suffering than to press for a cosmic escape and yet he is no less eccentric. I am happy to report that Sadat's approach remains largely unaltered on Experience & Education, his third solo album. More importantly, Experience is an accessible, enjoyable banger from front to back that solidifes Sadat's continued relevance in today's fickle market. Many reviewers have noted how Sadat expounds on the concepts of experience and education by incorporating autobiographical detail into his rhymes. While such tidbits are interesting enough (apparently he has worn every hat from fireman to schoolteacher) it is Sadat's devoted mastery of his craft that shines through as the most noteworthy and exemplary aspect of his character.
Although his delivery can seem casual and loose, a close listening reveals that Sadat's techniques are both funky and precise. He attacks the snares (which are nearly uniformly dope) like any legend of his era and comes off hard even if his rhymes land in unexpected places. His most idiosyncratic vocal stylings are dropped sparingly and strategically, adding to the personable, conversational vibe. Sadat is a most engaging host: he frequently poses questions only to abandon his line of thought, as if to leave it open to questions and comments. His songs often take on the character of an illuminating, dialogic exchange between a teacher and his pupils.
Just as he creates the permissible illusion of a sensible stream-of-consciousness in his rhymes, Sadat selects beats from an eclectic team of producers (including Diamond D., DJ Madsol-Desar, and Minnesota) that are remarkably consonant and yet different enough to retain the listener's interest. Hard drums and fly samples are everywhere to be found. Although the mixing is relatively clean and songs like "What Did I Do" have a distinctly modern feel, the LP hearkens back to an earlier era in which rappers dipped into a rich pallette of emotions and rhyme styles to illustrate a wide experiential or imaginative range.
It is difficult to recommend individual songs because the album, save for the showy, tacky beats contributed by Agallah ("Stack Up" and "Shout"), plays wonderfully as a whole piece. The solemn yet captivating "God Is Back," the perceptive and riveting "Daily News," and the sublimely beautiful "Shine" (featuring Money Boss Players) stand out as personal favorites, but I strongly suggest that you become deeply acquainted with this remarkable release in its entirety.
Comments for "Sadat X - Experience & Education"