Ed O.G. - Dedicated EP
posted on Sep 19, 2005
Ed OG - Acting (Link Expired)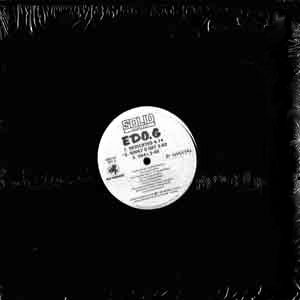 Ed O.G.
Dedicated EP
Solid Records, 1996
Boston's most revered emcee has frequently been at odds with records labels large and small. After Ed O.G. and the Bulldogs dropped their hit debut, Life Of A Kid In the Ghetto (1991, Mercury/Polygram), which spawned enduring classics like "I Gotta Have It" and single-handedly put their Roxbury 'hood on the map, the crew found themselves underpaid and inert. After finally parting ways with Mercury/Polygram, Ed and his compatriots signed with Chemistry records and dropped the low-selling and unfairly denounced Roxbury 02119 in 1994. Sans the Bulldogs, Ed O.G. returned in 1996 with the Dedicated EP, a six song vinyl platter that is entirely produced by a local crew called The Vinyl Reanimators, who gained notoriety in the mid-90s by releasing a series of white label remixes of underground favorites, including Nas and AZ "Life's A Bitch."
Dedicated lies at the intersection of major label aspiration and indie self-assertion, forged out of Ed O.G.'s inevitable and wise entry into the burgeoning vinyl-only underground scene and the Vinyl Reanimators' power move towards a "legitimate" release schedule. Musically, the EP is a clean, sparsely melodic, nighttime affair that teasingly hints at atmospheric lushness. The one standout is the nearly perfect "Acting," which incorporates an especially rich bassline into the mix; the song is warm and pleasantly heavy, almost hearthy, and feels right at home in the EP's center. While Ed's previous albums are marred by filler and failed crossover attempts, Dedicated makes effective use of its most essential sonic and thematic elements.
Ed's emphasis on simplicity suits his straightforward rapping style so precisely that the tracks practically bleed into one another. He chooses his words with meticulously, rarely if ever devolving into the childish simplicity or silliness that rears its head throughout the rest of his discography. His unwavering focus on the streets and the Reanimators' penchant for hard snares and smooth, pulsing, fusion jazz sounds might have worn thin over the course of an LP. As an evenly paced and consistently impressive EP, however, Dedicated finishes on a high note, the way it's supposed to be done.
Comments for "Ed O.G. - Dedicated EP"