Cash Money & Marvelous - Where The Party At?
posted on Dec 21, 2005
Cash Money & Marvelous - A Real Mutha For Ya (Link Expired)
Cash Money & Marvelous - Ugly People Be Quiet (Remix) (Link Expired)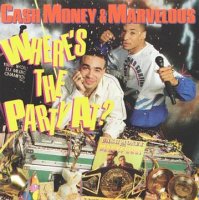 Cash Money & Marvelous
Where The Party At?
Sleeping Bag Records, 1988
DJ Cash Money, a protégé of DJ Jazzy Jeff, was merely a local legend in his hometown Philadelphia who then lived up to his nickname "The World's Greatest DJ," by inexplicably winning the Disco Mixing Championship, American Mixing Championship and the New Music Seminar DJ Battle For World Supremacy in 1988. He then teamed up with microphone comedian Marvelous to cut Where The Party At?, which does not veer from its intended theme for even one nanosecond. Marvelous is an affable, uninhibited host whose lowbrow humor is undeniably magnetic: even his questionable claim that he is not in fact playing or joking during a song as absurd as "Marvelous' Drawers" is endearing. He sounds remarkably like LL Cool J but is far less concerned with the poor performance of rival rappers, although he gives sucka ducks a serious wake-up call on "Time Is Up."
More often, Marvelous is content to summon partygoers to the dance floor, big up his DJ's superior skills, and act a fool. He disses women with horsehair weaves ("Is It Real?") but sarcastically extols the virtues of a non-superficial outlook on the opposite sex on the hilarious "Find An Ugly Woman." His sense of humor is never more than juvenile, often to a fault, but his delivery is rugged enough to sound at home over Cash Money's expertly selected drum loops and supernatural scratching. The wonderfully unruly remix of "Ugly People Be Quiet" and the engrossing JB's flip "A Real Mutha For Ya" summarize this album's transitional spirit: both DJ and MC share the spotlight, and both place equal emphasis on technical ability and stage presence for the benefit of the crowd. Nearly every track is a potential crowd pleaser, making Party one of the least self-involved (and most fun) rap albums you have yet to discover.
Comments for "Cash Money & Marvelous - Where The Party At?"