AZ - A.W.O.L.
posted on Dec 21, 2005
AZ f. Raekwon and Ghostface - New York (Link Expired)
AZ - The Come Up (Link Expired)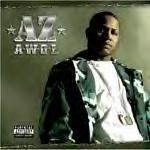 AZ
A.W.O.L.
Quiet Money/ Fastlife Music, 2005
None of AZ's albums are especially impressive, although he usually blesses us with a handful of dope tracks on each offering. Despite his largely disappointing catalogue, it's difficult to dislike AZ. He is renowned for possessing one of the smoothest flows around and he positively drips old-school integrity and class. He makes periodic alterations to his delivery and remains more or less in step with current slang. Theoretically, he should be basking in mass appeal beyond his cult following: his retention of a '90s New York musical sensibility and aesthetic makes his product potentially palatable to both sides of the Stretch/ Bobbito schism and then some. Still, AZ falls far short of a consistent album once again, so much so in fact that its difficult to pinpoint why such a clearly talented emcee fails to make magic in the studio.
On a few cuts off of A.W.O.L AZ lives up to his own promise. He sounds right at home over the "Gangbusters" break on "New York," and more than holds his own alongside still-relevant dart-spitters Ghostface and Rae with a flow so precise you could set your imagined talking watch to it. He rips the title track to a million pieces like he was born to do it, and makes his breathless linking of '87 reminiscences and multisyllabic boasts sound easy on "City of Gods." The DJ Premier-produced "The Come Up" is a fairly average outing for both artists but it bangs lovely nevertheless. Aside from these cuts however, A.W.O.L is forgettable and vanilla: AZ would have to kill shit much harder than he does on anemic, synthetic-sounding tracks like "Can't Stop" to encourage a second listen. "Still Alive" is a trying mess that should never have progressed past pre-production, an unfortunate reminder that AZ's ear for beats is so underdeveloped that it obscures his stronger attributes. Approach this album with caution.
Comments for "AZ - A.W.O.L."