Count Bass D - BEGBORROWSTEAL
posted on Dec 21, 2005
Count Bass D - The Mingus Sextet (Link Expired)
Count Bass D - Body By Jake (Link Expired)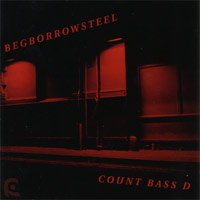 Count Bass D
BEGBORROWSTEAL
Countbassd.com/ RAMP, 2005
BEGBORROWSTEAL was first offered as a limited edition thirteen-track effort available only at Count Bass D's official website in 2003. A different version, with four extra cuts was then released in Japan in 2004. The latest version was distributed to the world at large with three appended tracks in early 2005. The viral folklore surrounding this album's trickster cycle suggests that the Count put the first version together to raise enough money to either alleviate a bothersome debt or simply make ends meet, and kept re-releasing it according to the growing demand. Much like the Count's recent career, the phenomenon that is BEGBORROWSTEAL continues to attract attention and gain momentum by virtue of the tangible quality of the music and the resulting word-of-mouth reputation boost. The legend is plausibly furthered by his apparent commitment to refining his work while getting his product out to the masses—- remember how the b-side remixes on the singles off of Illmatic made Nas seem like that much more of a hero?
There's certainly a lot to appreciate on BEG. Count Bass D is an eccentric off-the-cuff rhymer who has made a successful transition from live instrumentalist to self-proclaimed master of the MPC. His music is smooth but not slick, melodic but not sugary, increasingly refined and yet so distinctive as to feel like challenging listen, especially when most songs are under two minutes long. Much like Dwight Spitz (Day By Day, 2002) BEG is pure hip hop in the vein of Prince Paul circa De La Soul is Dead, a richly textured, delightfully complex, frantic journey punctuated by sudden movements, interspersed with peculiar snippets of dialogue. The Count's music is respectfully evocative of the funk, soul, jazz, and rock genres that he pilfers, filters, tweaks, chops, and rearranges. Ghostly echoes of these embalmed musical forms enter and exit the mix like they never died in the first place, much like the Count's breezy, half-freestyled thoughts. Clocking in at just under a half-hour, BEG might coast along as easily as Sunday chores background music if you let it; for some, this compactness will prove to be a turn-off, a reason to overlook it subtle brilliance. Their loss.
Comments for "Count Bass D - BEGBORROWSTEAL"