Def Jef - Soul Food / Funkytown Pros - Reachin' A Level Of Assassination
posted on Sep 19, 2005
Def Jef - Soul Food (Link Expired)
Def Jef - Soul Provider (Link Expired)
Funkytown Pros - Assassination (Link Expired)
Funkytown Pros - White Green (Link Expired)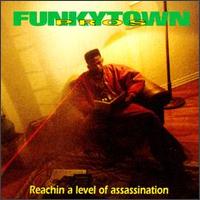 Def Jef
Soul Food
Delicious Vinyl, 1991
Funkytown Pros
Reachin' A Level Of Assassination
4th and Broadway, 1991
Soul Food commences with Def Jef's spoken-word musings on the quest for musical immortality, which he delivers on top of the same wah-wah pedaled Sly Stone snippet that frames De La Soul's skit-song "Description." As the cover art suggests, Jef wishes to be revered as a keeper of the funk alongside George Clinton and James Brown and also aligns himself with the famously radical rap crews of his day. He clearly reveres X-Clan, whose P-Funked-up 1990 debut To The East, Blackwards featured cover art that positioned the group's members at the center of a constellation of Black political leaders.
Jef sharks Brother J's rhythmic growl to declare that he is "NEVER apolitical" on the rousing, rolling "Get Up For the Get Down." In keeping with tradition, both Def Jef and The Grand Verbalizer seem to share a common stylistic ancestor in Kool Moe Dee's resonant and righteous articulation, itself reminiscent of late 60s Black radio disc-jockey patter. Jef's derivative style actually works in his favor; his flattering imitations sound unforced as he eschews distinctiveness or daringness in favor of skillful lucidity.
While Jef's 1990 debut Just A Poet With Soul is underwhelming and generally light-in-the-ass, Soul Food is eloquent, angry, and raw. Fresh off his militant cameo on Ed O.G.'s 1991 debut Life Of A Kid In The Ghetto, Jef uses his newly vainglorious vocalism to speak urgently but soberly upon racial politics over self-produced, mid-tempo jeep beats on the optimistic "Voice of a New Generation" and the incendiary "God Complex." His sinewy rhyme patterns are tightly constructed and seldom devolve into digression. On "Soul Provider," Jef balances such high-minded culture critique with enjoyable braggadocio over drums of steel made possible by underground legend DJ Mark the 45 King.
The only real misstep is "Cali's All That" but one quickly forgives its cheesy frivolity by the start of "Brand New Heavy Freestyle," the ill collabo with U.K. funk doctors The Brand New Heavies that showcases Def Jef at his most spontaneous, ripping the microphone as if catchin' wreck was his sole objective all along. Which of course, it was; Jef is a populist whose concern for his audience grounds his music in sometimes constraining accessibility.
From the same Left Coast lands but driven by entirely different philosophies, Assassination also announces its project to funk da world from its outstart. The LP's "Funktro," consists of a single instrumental minute of "The Big Payback" and other crate digga staples excerpted and mushed into a groove that is quirky and jarring. It's a fitting synopsis of an album enlivened by vexing interplays of explicit bravado and cool subtlety, detached irony and embittered social consciousness. Producers Devastatin' The Rhythm Fluctuator and Gaza X. tap the usual funk-soul source materials only to arrange and sequence these familiar sound-bites into bizarre, nearly dissonant tracks that swing awkwardly while bumping hard.
The music as a whole isn't quite as loony as the cosmic slop of say, Freestyle Fellowship's To Whom It May Concern, nor is it half as dense as early P.E. cuts, but the beats are strange enough to immerse the listener squarely in the conflicted, sardonic mindset of rapper Boiwundah. On "White Green" he convincingly flips the meaning of the title in four different politically charged ways but employs an inflection so haughtily self-satisfied and damning that it borders on obnoxious. As the album progresses it becomes increasingly difficult to tell if the man is searching for the formula to save the world or chuckling at its demise. The shit is frankly, hard to pin down.
"Satisfaction" starts and stutters wildly while Boiwondah whines and chastises in multi-syllabic internal rhymes that manage to fall increasingly off beat in precise intervals. "Genius" and "Just Another Toss Up" are sugary pop ditties too weird for radio play, while "Assassination" is an Eric. B and Rakim impersonation without a hint of their signature cool disposition. Boiwundah frequently conflates his tribulations as a struggling artist with the political struggles of Black people worldwide. Unlike other rappers, he does so without ever modifying his inflection or shifting his point of address.
For most of the album, he speaks to the ignorant enslaved masses as if they too were sucka duck rappers. It is a gesture most naïve and juvenile, but therein lies the charm of an album that takes itself so seriously while projecting an air of disinterestedness. When the funk is potent and Boiwondah raps with conviction, you'll forget all about his antisocial style anyhow. For instant gratification, peep "Fallin'" and "Brutally Wild" and Boiwondah's masterful appearance on "Soul Food" off the aforementioned Def Jef LP for seminars in causing much damage.
Comments for "Def Jef - Soul Food / Funkytown Pros - Reachin' A Level Of Assassination"