Theodore Unit - 718 / Ghostface Killah and Trife Da God - Put It On The Line
posted on Feb 15, 2006
Theodore Unit - Pass the Mic (Link Expired)
Trife Da God - Put It On The Line (Link Expired)
Trife Da God - Event (from Put It On The Line) (Link Expired)
Ghostface Killah and Trife - Wicked With Lead (Link Expired)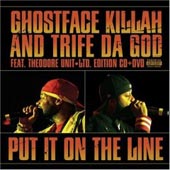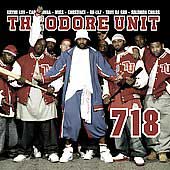 ---
Theodore Unit
718
Sure Shot, 2004
Ghostface Killah and Trife Da God
Put It On The Line
Starks Enterprises/Full Clip, 2005
In 2004 Ghostface Killah introduced his crew Theodore Unit, with 718, a surprisingly cohesive "official mixtape." Compared with such embarrassments as former Raekwon associates American Cream Team, Theodore Unit is a fairly respectable group of rappers, with the exception of the unimpressive Shawn Wigs (who, on 718, squanders a super-dramatic beat plainly describing an unexciting and employment-free day). Trife, the most promising of the lesser-known members of Theodore Unit, released Put It On The Line, a joint effort with Ghostface, in late 2005. Dedicated fans of Ghostface who were disappointed by the familiar ritual of previously leaked songs getting cut from official releases might be drawn to either of these albums by the inclusion of songs previously available only on J-Love mixes, mp3s, or hissy dubs (for the true boom-bap dinosaurs). For such fans, "Paychecks" is probably the biggest disappointment on either album, because the version included on 718 has a beat that is merely an interpolated rendition of the original sample, a valiant but predictably unsuccessful attempt to meet previously created expectations.
718, helmed by Ghostface and buoyed by two good appearances from Cappadonna, has a throwback sound that effectively reaches back to the era before the Wu-Tang Clan became nationally known. As on Pretty Toney, Ghost shows his age, filling the album with both overt and subtle reminders of the past without resorting to the lethargic conventions of true-school nostalgia found in recent work by Common and Little Brother. During the first third of the album, many of the beats feature hard, lo-fi drums and rough samples that recall the roughneck aesthetic of the late 80s. On "Wicked With Lead," a standout track, Ghostface and Trife reminisce about their youths, while producer K-Def reworks Spoonie Gee's futuristic 1981 single "Spoonie Is Back," creating a beat that sounds like it could have been cut from the Wild Style soundtrack because it hit too hard. Ghostface remembers wearing the "new Patrick Ewing Jr.'s" in 1988, while Trife recalls 1993, "when The Chronic was hittin', Onyx was spittin'" and he sported "Air Jordans and Scottie Pippens." The display of multiple superimposed periods of hip-hop culture gives the song the feel of a self-contained digest of the entire history of the genre.
Put It On The Line, despite the quality contributions from Ghost, feels like Trife's project. This is a good thing, the result of a satisfying attempt by a hungry young MC to claim his territory. Trife's insistent energy allows him to convincingly assume the persona of a hardworking young man who is neither a caricatured drug-dealer nor a cartoonish model of virtue, a hustler who is not always illegal. The shinier, more conventionally modern beats found here mesh more fully with Trife's clear voice than the material from 718, but the downside is that the album also falls victim to some of the common problems of modern rap music. While Trife's timing and flow is generally impeccable, his delivery, in stark contrast to that of his mentor, is fairly monotonous, varying little in tone or cadence. In this regard, he is similar to many other young New York rappers, the interchangeable mixtape favorites who favor syllabic display over considered content. Trife's worst moments do not approach actual wackness, merely bland mediocrity. Many of these instances are lazy similes that should have been left on mixtapes ("I'm a legend like John," "more guns than Corey,"). Trife's best moments come when he works sharp details and creative wording into his steady flow and seemingly effortless rhyme schemes, like the excellent autobiographical title track.
On both of these albums, Ghostface Killah proves that not only is he a capable mentor, but one who has chosen capable proteges. 718 has incredible replay value for any 2004 album, let alone an "official mixtape." Put It On The Line follows modern fashions more conventionally, but it is also more consistent, and it can be considered a strong debut, even though Trife does not handle the whole album. The Ghostface concert DVD included with Put It On The Line is a welcome bonus, but both of these albums are worthy purchases.
Comments for "Theodore Unit - 718 / Ghostface Killah and Trife Da God - Put It On The Line"