O.C. - Word…Life
posted on Feb 15, 2006
O.C. - Time's Up (Live version, not on
Word... Life
) (Link Expired)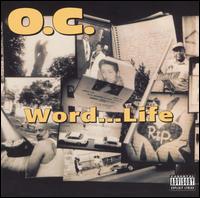 O.C.
Word…Life
Wild Pitch, 1994
The sepia-toned scrapbook that serves as the cover of Omar Credle's first album expertly conjures a warm and nostalgic atmosphere. A closer examination of the sprawling, four-panel composition reveals profoundly sad images scattered alongside Bushwick, Brooklyn irreverence. The music inside is appropriately housed, as O.C.'s album is contemplative and personal, reflecting the imaginative retelling of a full lifetime of concrete experience rather than a deceptive fabrication.
Word…Life is largely produced by Buckwild, whose beats are very complementary to the album's lyrics. The title track's hazy atmosphere and beautifully spare piano augments O.C.'s braggadocio and justifies the bold hook, a simple mantra of "word… life." Contributions from Organized Konfusion, DJ Ogee and Lord Finesse are also sensitive to the sonic theme of the album. The conceptually "harder" tracks such as "Time's Up," "Ga Head" and "No Main Topic" still exhibit a kind of musical control—the drums don't bump the way Criminal Minded does, rather they are pushed by the aggressively timed ride cymbals and hi-hats from the producers' choice jazz samples.
A summary of O.C.'s content would be a cruel injustice. The magic that he creates and sustains on Word…Life is primarily due to his individualist use of English, which frequently ignores conventional bar structures, substitutes words vaguely related to the literal concepts he conveys, and abandons the notion of a complete sentence. The crowning achievement of O.C.'s approach to emceeing is without a doubt the album's centerpiece, "Time's Up." A ruthless attack on phony artists, "Time's Up" is one of those rare songs that, like "Shook Ones, Part II" or "Road To The Riches," would be nearly impossible to single out quotables from. The song is reputed to have taken a year to write, and it certainly stands out as more stylized and more meticulous than anything else on the album. It is clear that O.C. understands that emceeing is not the same as conventional speech, prose or poetry and his experiments within the form are often amazing ("What's in the future for the fusion in the change of rappers are in danger? Who will use wits to be a remainder?").
"Born 2 Live," his somber, but far from tearjerking reflection on mortality, has two incarnations on
Word…Life
. Buckwild's mix is cheerful and nostalgic, while Organized Konfusion provides a moody, far less accessible soundscape. The two beats highlight completely different aspects of O.C.'s rich writing—Buckwild's recalls life before understanding death and OK's emphasizes the loneliness that death can create. Unlike a lot of albums that close with remixes, the "Born 2 Live" remix is a perfect conclusion for
Word…Life
.
Word…Life is an extremely well-conceived album. Its execution falters toward the end of the record due to the uninteresting "Ma Dukes" and clumsy ad-libs from one of O.C.'s homies on "Outtro (Sabotage)" which unfortunately make up the bulk of the track. But even for these songs, the word "listenable" seems a bit insulting. While O.C.'s innovations are scattered throughout the album, the music is always comfortable and usually pretty incredible.
Comments for "O.C. - Word…Life"