Rumpletilskinz- What Is a Rumpletilskin? / The Legion - Theme + Echo = Krill
posted on Sep 19, 2005
Rumpletilskinz - Attitudes (Link Expired)
Rumpletilskinz - Hudz (Link Expired)
The Legion - Groove (Link Expired)
The Legion - Jingle Jangle (Link Expired)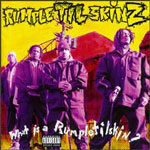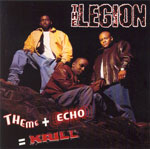 ---
Rumpletilskinz
What Is a Rumpletilskin?
RCA/BMG, 1993
The Legion
Theme + Echo = Krill
One Love/ Mercury, 1994
The early 90s saw hungry clans and cliques land impossible big label deals, drop mixshow favorites on 12" wax, shoot zero-budget fiery trash can videos, hit #1 on the bootleg charts … only to fall the fuck off the map. Rap's straight-to-bargain bin phenomenon has been long dramatized in rhyme and print; unilateral blame is leveled at the Mr. Bob Dobalinas of the day. While negligent promotion and A&R myopia are not to be shrugged off, one can argue that many skilled crews were doomed to languish in obscurity on the strength of the sheer quantity of phat shit coming at us from every corner of the country. Acts from the Big Apple were further hurt by the East Coast Jungle's flourishing but unprofitable mixtape/dub culture. Talented and supposedly well-connected crews like Busta's childhood chums Rumpletilskinz and Black Sheep associates The Legion were camouflaged by a stampede of Onyx and Das EFX roadies turned overnight rap stars.
Before dropping their full-length LP in 1993, The Rumpletilskinz (Jeranimo, Sha-Now The Remedy Man, R.P.M. and Capitol L.S.) tore shit up alongside The Leaders of the New School on the mega posse cuts "Sound of the Zeekers" and "Spontaneous." Like L.O.N.S, the Rumpletils rep for suburban Uniondale, L.I., favor shouted choruses and bassy beats, and devote a lot of mic time to relating their worldviews and depicting everyday happenings. However, the Rumpletils debut is refreshingly devoid of the childishness that permeates early L.O.N.S material. The foursome put on a loud, unruly show, solidifying their connection to the aggressive Brooklyn-Queens rap styles of the day. Many listeners will be inclined to compare their vibe to that of Onyx, due to the shouted choruses and the presence of a Chyskills-produced cut, but the Rumpletilskinz style is extremely difficult to pin down.
For all the crews that claimed to display "mad flavas" or master "many styles" these kids were among the few to show and prove on record. Sha-Now's flow is unusually breathy and meanders to a near-slur only to come back on track with well-timed changes in pitch; Jeranimo is brisk and precise but still makes use of varying inflections; R.P.M. and L.S. possess raspy, menacing growls. On tracks like "Earthquake" and "Hi Volume" the strident, crowded verses sound great over the distinctive combination of dusty, filtered samples and peculiar keyboard noises. The mischievous single/video "Attitudes" is certainly a highlight, but the record's true gem is "Hudz," a rowdy, rolling affair capped off by Sha-Now's triumphant poetics that detail his gradual attainment of knowledge of self.
The Legion first appeared on the amped posse cut "We Boys" on Black Sheep's long delayed and poorly received sophomore effort Non-Fiction (Mercury, 1994). Later that year, as signees to Black Sheep's One Love imprint, they dropped the brilliant underground classic "Jingle Jangle," a nasty break topped by a filthy piano loop, all types of random clashing samples, and a highly quotable finishing verse from Dres. The hardcore lo-fi sound brings the best out of the Bronx trio, themselves products of a resilient uptown rap scene lorded over by mixtape kings and party motivators like Kid Kapri and Brucie B. Theme + Echo = Krill attempts to recreate the magic of "Jingle Jangle" for an entire long-player, but only the smoothed out club joint "Legion Groove" comes appreciably close.
Emcees Cee Low, Molecules, and Chucky Smash have rugged, impassioned deliveries and yet they rarely sound inspired enough to carry a song on their own. Outside of the aforementioned tracks and two overpopulated posse cuts expertly produced by Dres and Showbiz, the project comes off as a hurried attempt to craft a studio album out of mixtape materials and concepts.
This is not to say that the old school allusions, scratching, classic breaks, call and response chants, radio drop skits, or street chronicles do not hold a certain appeal. Theme is simply over-ambitious. As a result, the Legion do not shine on their own merits, and they seem content with fashioning a third-tier D.I.T.C. sound. To their credit, they do appear to have fun doing just that, and the album is more or less consistent if not compelling or groundbreaking. However, the presence of the stellar "Jingle Jangle" causes one to wonder if rappers-turned-execs are just as unskilled at developing new artists as the industry straw men they once vilified.
Comments for "Rumpletilskinz- What Is a Rumpletilskin? / The Legion - Theme + Echo = Krill"