Automator - A Much Better Tomorrow
posted on Sep 19, 2005
Automator f. Kool Keith - Cartoon Capers (Link Expired)
Automator f. Kool Keith - It's Over Now (Link Expired)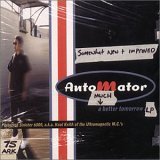 Automator
A Much Better Tomorrow
75 Ark Entertainment, 2000
Automator f. Kool Keith – Cartoon Capers
Automator f. Kool Keith – It's Over Now
Dan the Automator's A Much Better Tomorrow is a series of snapshots of the producer's early career–it is a remodel of an instrumental EP released in 1996, with the addition of six vocal tracks recorded around the same time. This approach to albums works well for family photos, but often yields poor results when applied to music for public consumption. Here the outcome is mixed, or to put it uncharitably, schizophrenic. Despite Automator's later ability to craft ever-changing, lush soundscapes on albums such as Deltron 3030, his instrumental tracks here do not stand up to the contemporary work of his friend DJ Shadow. With the exception of the superfluous and absurdly long second movement of the title track, these instrumental songs are pleasant enough as background music, and might work with the addition of vocals, but they feel tiresome when pushed to the foreground.
The vocal tracks are better, presenting a harder side of Automator's work that contrasts, sometimes jarringly, with the "alternative hip-hop" of the tracks from the original EP. Automator's early collaboration(s) with Black Rob would probably sound at home alongside the vocal tracks. Two Kool Keith contributions stand out: the poignant, jaded "It's Over Now," which preemptively eulogizes his career, and "Cartoon Capers." The latter is a disjointed, glibly violent narrative in the vein of Ghostface's later "The Forest" and Ice Cube's earlier "Gangsta's Fairytale." Queens hardhead Poet and Neph da Madman contribute street-level lyrics to dark tracks that evoke the brick wastelands of the Rotten Apple.
While Automator may have succeeded in his later attempts to expand his music beyond hip-hop's boundaries, the most successful songs on this album are the most traditional. A Much Better Tomorrow accomplishes its aim as a time capsule, but it presents a decidedly split picture of Automator's work. Listeners are left with both a ghostly glimpse of an immediately enjoyable street-oriented direction that never materialized, and a less satisfying preview of his artsier work with Prince Paul and others.
Comments for "Automator - A Much Better Tomorrow"