El-P - Fantastic Damage
posted on Apr 01, 2006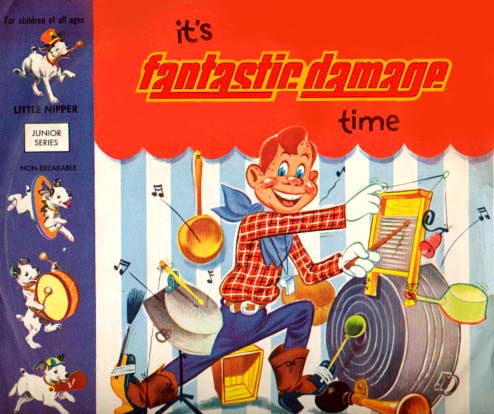 El-P
Fantastic Damage
Definitive Jux, 2002
A decade ago El-P's juvenile techniques included a postmodernly worship of the most impish and inebriated Afro-Latin horn-loopers that the backstreets of the blighted outer boroughs ever produced, ranging from the mambo meets Mixmaster Mike true school semiotics of the Beatnuts to the lush orchestral soundscapes swollen by smatterings of gorgeously carved soul slices epitomized by Pete Rock. Since these halcyon days of contraband-laden knapsacks and the usual blucka-blucka dun doggerel, the epiphenomenona that is Co-Flow/El-P/Def Jux has transcended the stifling parameters of hip-hop's predictable tedium, an artificial limitation that is often self-imposed as a psychological defense mechanism against the same pulverizing social constructions that have rendered our once glorious urban centers into repositories of vice, crime, and moral decrepitude. If Funcrusher Plus can be accurately described as the mid-90s sacrificial lamb of scattershot sampledelica viewed from the perspective of an errant tourbus coasting through the antediluvian labyrinth of Gotham's deteriorating core, and The Cold Vein is Mary Shelley's Frankenstein meets Paul's Boutique and engages in a 108-round no-holds-barred bareknuckle boxing match with Kool Moe Dee as referee and Kool Keith and Prince Paul as celebrity commentators, then it can be rightfully said that Fantastic Damage is a tour de force of Voltairian proportions, with dissonant moods and substructures pantomiming a plethora of chimeric anti-tropes salvaged from the veritable wreckage of post-industrial modernity and put through the basement torture chamber of Neitzche-esque quasi-fascist uber-conformity, resulting in a panoptical glimpse into the prelapsarian palimpsest we have all come to know and love. Highlights include the draconian use of detuned electric mandolins in conjunction with spaghetti strainers and muted samples of a planetarium presentation narrated by Leonard Nimoy on "Fraggle Fuck Godwin 7.8," which dares to eschew the Escher-esque pentameter of contemporaries like Masta Ace and Jean Grae in favor of a positively Byzantine boom-bap relieved of any irrational demands for lucidity, rhythm, or linear sense. A bona fide masterpiece. 5/5 stars.
Note: This piece was part of an April Fool's satire.
Comments for "El-P - Fantastic Damage"