Positive K - The Skills Dat Pay Da Bills
posted on Sep 19, 2005
Positive K - It Ain't No Crime (Link Expired)
Positive K - Shakin' (Link Expired)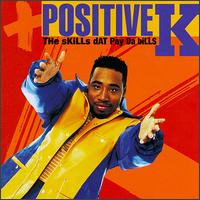 Positive K
The Skills Dat Pay Da Bills
Island, 1992
Positive K is perhaps best known for his studio manipulated, gender-shifting vocals on "I Got A Man," his 1992 crossover smash that ingeniusly looped Funky 4 Plus One's "It's The Joint." It's a shame that his long shot at commercial success caught on so quickly and came to define him as a one-hit wonder, because Positive K's 1992 full-length effort is strictly underground funk in spirit, form, and practice. Skills balances a decidedly street aesthetic with a clever pop appeal at a time when such effortless Spoonie Gee-ish equilibrium was becoming a rarity in the NYC rap scene.
The production is handled by the likes of Silver D., LG, Laz-E-Laz, Jazzy Jay – this roster of long overlooked subterranean heatmakers bolster familiar breaks with the bounciest of basslines to create a sound that is catchy but never soft. With its old school allusions and party vibe the album comes off like a throwback session and yet rarely sounds antiquated. Pos K wisely emulates artists of exceptional talent and vision whose records still sound fresh and innovative. He possesses a high-pitched delivery and refined eloquence reminiscent of Slick Rick or Dana Dane. In addition he seems to have a knack for flipping slang, kicking game, and dropping science in rapid successions that immediately calls to mind his collaborator and friend Grand Puba. Fans of Big Daddy Kane's Fiver Percenter/ Pimp paradox will revel in Pos K.'s celebration of all wonders and pleasures both earthly and spiritual.
Although the legacy of Pos K. has been unfairly obscured by his flash-in-the-pan categorization, Skills is a more cohesive and satisfying work than the majority of the material recorded by his more famous and revered associates, Audio Two and MC Lyte. While few cuts on Skills live up to Positive K's earlier 12" vinyl offerings, and the infectious mass appeal of certain tracks borders on camp, you can't front on the rugged intensity of "One To the Head" or the arrogant wit of "Ain't No Crime." Rescue this from the dollar bin, dust it off, pop it in the ride and give it a deserved run.
Comments for "Positive K - The Skills Dat Pay Da Bills"