Anttex - Suburban Etiquette
posted on Sep 19, 2005
Anntex - Trip 2 The Suburbs (Link Expired)
Anttex - Understand Me Vanessa (Link Expired)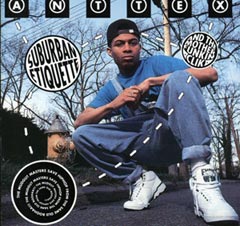 Anttex
Suburban Etiquette
Tuff City, 1991
Anttex hails from a non-descript middle-class neighborhood in southeastern Queens and wears this association ironically but not without a little pride, taking great delight in satirizing his peculiar surroundings. His narration alternates between a meticulous account of the most mundane aspects of suburbia and a hilariously scandalous exposé of its surprisingly sinister underbelly. The suburb according to Anttex is a perverse outgrowth of the famous Queens ghettoes that birthed most of your favorite rappers. This is neither Rakim's transcendent birthplace nor Run DMC's beloved Hollis hometown, but a section where crime and depravity are more readily attributable to the complacence of material comfort than systemic inequality.
Fittingly, Anttex's influences range from the highly technical and absurdly violent storytelling of Queensbridge revivalists like Tragedy or Poet to the self-deprecating, idiosyncratic class critique of De La Soul. His beats sound like deliberately sloppy send-ups of Prince Paul's already eccentric funk, sounding too excitable, perhaps even nervous. Sometimes the drums are THERE, sometimes not so much; sometimes the flows are tight and sometimes they falter. This approach results in music that is compellingly retarded and loads of fun, a powerful '89-'91 boom-bap tinged with '79-'81 camp that is more than just a little strange.
Anttex plays tour guide on the boomin' "Trip 2 The Suburbs," and skewers middle-class naiveté/paranoia while observing the presence of your standard skeezers, trigger-happy hoodlums, and battling emcees in an area where the "houses are bigger!" The smarmy tone and trunk funk sound is maintained on "Get Em Now Bad Influence" and "Flavor Wit The Neighbors" while cuts like "Warning Flammable," a blatant parody of De La's "Jenifa Taught Me," extend the tongue-in-cheek critique beyond gossipy neighbors and well-heeled thugs on to other tongue-in-cheek suburban rappers.
By the time that a pre-pubescent Havoc drops a quaintly amateur guest verse on "As the World Turns," Anttex's suburb closely resembles the Brentwood, L.I. of EPMD's enterprising imagination, a locale where a bougie house party can turn raucous and end in either serious ep-swinging or gunplay. Most appropriately, his flow resembles a cross between Parrish Smith's deadpan steez and LL's whispery sleaze. The album's true gem is "Understand Me Vanessa," whose lush, whirling, otherworldly synth and electric piano samples house an incomprehensibly mean-spirited and seemingly unprovoked diatribe addressed to an ex-lover. Don't get it? Maybe you had to be there.
Comments for "Anttex - Suburban Etiquette"