Aceyalone - All Balls Don't Bounce
posted on Sep 19, 2005
Aceyalone - Anywhere You Go (Link Expired)
Aceyalone - Mr. Outsider (Link Expired)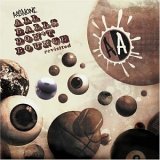 Aceyalone
All Balls Don't Bounce
Capitol, 1995
Despite his apparent knack for crafting catchy, highly original songs of street knowledge and uplift, Aceyalone has been relegated to an "underground" status for years. His catalogue, which includes both independent and major-label releases and spans most of the 90s, was largely ignored until the release of his 1998 full-length collaboration with producer Mumbles, the ambitious if uneven A Book of Human Language LP. While ABOHL garnered overdue critical acclaim for the self-described "griot" from South-Central Los Angeles, Acey's greatest solo achievement has to be his 1995 debut on Capitol Records, All Balls Don't Bounce.
ABDB is a profound departure from his previous efforts, which include Freestyle Fellowship's Inner City Griots LP and the 1995 Project Blowed compilation. The often imitated and more successfully duplicated speed-of-thought rhyming and Cold Crush/ Fantastic Five-inspired harmonious chants that characterize those earlier projects are thankfully absent from this considerably mellower work. The beats are brilliantly tailored to fit Acey's highly eccentric, shifting flows and the album's cohesive production might be considered a noteworthy accomplishment for any team of beatmakers.
ABDB blasts off with the Nonce-produced "All Balls," a dusty yet ennervating jam that establishes the mood that prevails over most of the album. The rubbery bassline, triumphant filtered horns, and drums seemingly pulled out of the muck and mire each border on understatement but bang harder than one might have guessed once fused together. This is a hazy, downright absurd affair that lays uncomfortably in the purgatorial cut between Saafir's Boxcar Sessions and Digable Planets' Blowout Comb. Around this time, Black Thought claimed to be a bugged out gun-toting cartoon character a la Rammelzee, but Acey keeps it far more surreal than is even necessary to best such a thin boast.
Acey effortlessly locates expressive space in the minimal, distorted static of ABDB's music, and manages to strike a balance between technical virtuosity and experimental daringness. Acey's emceeing style has to be one of the more smoothly executed mind-fucks in mid-90s rap. He leads us through bizarre streams of consciousness and punctuates his darkest verses with left-field pop culture allusions. While lesser rappers might employ such fantastic imagery to clarifying or comedic effect, Acey uses these references to confound and unsettle.
A sick Prince Paulian sense of humor is felt at various points in the album and it certainly sounds as if Acey is having loads of fun at your expense. Mostly though, he just rhymes as he knows how. Acey is audibly influenced by the new school on-beat/off-beat flows of Kool Keith and KRS-One. Much like those masters, he matches the whimsicality of his rhymes with unpredictable stylistic flips and cadence shifts. From the "old school" legends, in particular LA Sunshine of Treacherous 3, Acey derives a boisterous yet cool disposition and an enunciated yet effortless style of speech.
Over another Nonce production titled "Mr. Outsider," Acey delivers an impassioned and lengthy treatise on American race relations and Black identity formation that manages to sound great. The minute-long "I Think" is similarly catchy and literate. Sandwiched between the Nonce compositions is the soulful, slow-rolling homage to the art of emceeing, "Deep and Wide" which features the bassy half-rapping and half-crooning stylees of Abstract Rude.
The album's two relationship-themed songs "Analilia," and "Makeba" simultaneously employ both misogynist and sugar coated clichés without delving too deeply into either mode; this makes for a very human, albeit neurotic and self-important, love rap. Acey's purposefully meandering rhymes seem a little out of place in the context of such explicitly topical songs but this may have been the desired effect.
The aimless posse cut "Knownots" (featuring Abstract Rude and Mikah Nine, who along with P.E.A.C.E. also contribute verses to the considerably iller "B-Boy Kingdom") and the plodding "Arhythmaticulas" together constitute the album's low point, as both songs are burdened by uthe ninspired beatwork of Vic-Hop and C.V.E. The lull ends quickly, as the singles "The Greatest Show on Earth" and "Mic Check" feature Acey at his technical best, rocking braggadocio style over classic material sewn tight by Mumbles and Vic-Hop. "Headaches and Woes" is a surprisingly easy listen; over live vibraphones, Acey muses with relative clarity on various social ills and the pressures of the starving artist lifestyle.
The album closes with "Keep it True," five minutes of haunting funk courtesy of Abstract Tribe Unique producer Fat Jack, topped by the beautifully sung hook. Positioned at the album's conclusion, this airy, sinuous song is evidence that ABDB is more invested in celebrating boundless artistic integrity and unshackled individuality than with fleshing out its sporadic swaths of vague socio-political commentary.
All Balls Don't Bounce Revisited: The 2004 re-release of this LP on Project Blowed/Decon records includes a very generous bonus CD that includes the entirety of an unofficial dub-circulated 1995 EP entitled Universal Soldier, as well as several remixes culled from ABDB's 12" singles and other rare tracks of uncertain origin. The inclusion of these additional tracks on a separate CD, as enjoyable as some of them are, does little to alter the context of a cohesive and consistent album. At best, these cuts serve as an appendix to ABDB, and indicate that the mid-90s was a most prolific and formative era for Acey and his Project Blowed brethren. The regionally specific, keyboard heavy funk of C.V.E and DJ Homicide, as well as the jazzier, more bi-coastal sounds of the Nonce and Fat Jack represent two musical directions that Acey would undertake quite frequently in the late 90s, often on the same project. The highlight of this second disc is undoubtedly Kemo's tremendously dope remix of "Mic Check," the first-prize winner of a remix contest that was later pressed as a popular 12" single.
Comments for "Aceyalone - All Balls Don't Bounce"