Kam - Neva Again
posted on Jun 22, 2006
Kam - Holiday Madness (Link Expired)
Kam - Peace Treaty (Link Expired)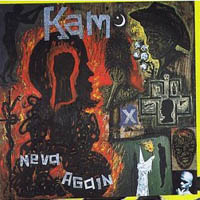 Kam
Neva Again
1993
Like his then-friend Ice Cube three years earlier, Kam's mindset during the recording of his debut must have been somewhat disconcertingly focused, and as equally full of anger. A more apt comparison, however, might be Lakim Shabazz – although Kam was less focused on the abstract goal of catching wreck, his baritone voice, obsession with multisyllabic rhymes, and philosophy are all good comparisons for the East-Coast-centric listener. Kam has a lot to say – most of the songs on the album have four verses. His songs often harangue or otherwise express displeasure, aiming at both white America and his own community. On "Hang 'Um High" he reverses the lynch mob in a revenge fantasy, and on "Neva Again" he details America's legacy of slavery. While he saves his most venomous anger for white America, he also takes shots at his own people. On "Y'all Don't Hear Me Dough" he devotes one verse each to chastising fellow poor blacks for joining the police force, dating white girls, eating pork, and selling drugs.
Sometimes Kam's irritation verges on hilarious, as on the curmudgeonly "Holiday Madness": "October 31st is my favorite/ little boys still at my door, 'cause I ain't gave em shit." In addition, Kam has trouble conveying any emotion other than various shades of anger. His nostalgia on "Still Got Love 4 Um" and nominally congratulory mood on "Peace Treaty" both come off as flat. The main problem with the album, however, lies not with the lyrics, but with the lack variety in the beats. If the lyrics maintain a rather monotonous mood, the beats only aid this. Like Ice Cube's albums from the same era, the beats are mostly dirty funk-related Boogiemen compositions. Das EFX producers Solid Scheme fit right in, contributing two quality beats. It is not that the music is incompetent, but because Kam's vocals maintain such a consistent mood, the nonstop funk behind his vocals make the entire album blend together. Nonetheless, this is an accomplished work, and Kam has kept the album under 45 minutes, so it does not drag.
Comments for "Kam - Neva Again"