Funkmaster Flex and Big Kap - The Tunnel
posted on Jun 22, 2006
Funkmaster Flex featuring Method Man - True (Link Expired)
Funkmaster Flex featuring the Ruff Ryders - We in Here (Link Expired)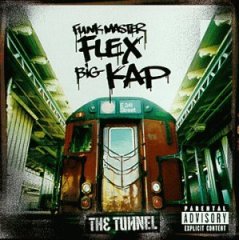 Funkmaster Flex and Big Kap
The Tunnel
Def Jam, 1999
With rhyme styles, beats, slang and fashion evolving at a furious pace, a quality mixtape doubles as the hip soundtrack to a fleeting moment and a valuable time capsule that allows for an objective look back at historical styles. Funkmaster Flex and Big Kap's The Tunnel, a Def Jam-commissioned compilation of exclusives, fills this latter role admirably, showing the good, the bad and the ugly of post Bad-Boy New York and the thugs who ran it.
Named after the now legendary defunct NYC night club, The Tunnel balances firearm and coke related boasts with old-school tributes and dance oriented material surprisingly well. After a then-obligatory 2-Pac and Biggie dedication, the tape's opening half manages to offer a consistent platter of rap's who's who, exceptional in an era where albums were derided for a lack of quality control. Produced by Rockwilder, DJ Twinz and Flex himself, tracks like the Ruff Ryder and Rocafella posse cuts "We in Here" and "For My Thugs" are slept-on examples of New York's clean yet powerfully anthemic late 90's sound. The Queensbridge and Wu-Tang tracks "Q.B.G", "True" and "Dem Want War" show off the grimier styles of the era equally well, with horror movie bells and high impact club anthems that actually surpass some of these artists' real singles. Even the token Mary J Blige R&B track and freestyle Snoop Dogg dedication to B.I.G succeed, highlighting how well most of the material has aged. With very little west coast and southern influence, it's refreshing to see how vibrant NY-centric mainstream hip-hop was just a few years ago and disappointing to see how far from grace the city has fallen in recent times.
Unfortunately, the tape's back end almost completely falls apart. Tracks from Angie Martinez, a blasphemous remake of "Live at the BBQ" by Ja Rule's Murderers and a grating CNN reunion serve no purpose but to wear down skip buttons. A Nas throwaway and a fierce LL Cool J comeback-attempt somewhat redeem the proceedings, but by the time the tape ends with Jinx da Juvi and Lady Luck, things have seriously gone downhill. With then-buzz-worthy artists Cam'ron, Black Rob Mos Def, Pharoahe Monch and Big Pun excluded, in Pun's case due to scheduling concerns, it's disappointing that a more complete roster couldn't have been assembled in place of the filler to make this a definitive picture of late 90's NYC. The division between New York's underground and mainstream cliques was growing by the day driving both scenes' music to unhealthy extremes. With non-gat related rhymes considered "soft" by The Tunnel's tastemakers, it's hard in retrospect, not to acknowledge that this attitude would eventually lead the once gritty street emcee to become a parody of guns, drugs and corny punchlines. Despite its flaws however, The Tunnel serves well as a historical look back at New York's domination of the commercial rap scene and the guns and ice aesthetic that ran through it. With Rawkus' Soundbombing series acting as its counterpart exposing the dorm-room rap revolution to the masses, The Tunnel is as good a way as any to reminisce on a time when hip-hop's commercial dominance was firmly the domain of the five boroughs, even if it came at a price.
Comments for "Funkmaster Flex and Big Kap - The Tunnel"