Sankofa - Still Means Something
posted on Jun 22, 2006
Sankofa - A Night at the Casba (Link Expired)
Sankofa - The Perpetual Motion Marchine (Link Expired)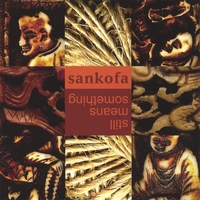 Sankofa
Still Means Something
2005
The Disclaimer
Be warned. This review is wholly based on the personal opinions and experiences of the writer, who happens to know the artist personally and professionally. This means I am biased, but it also affords me the chance to be extremely frank. In the end, my opinion really has nothing to do with the actual album, as each album is in fact completely different when listened to by each individual listener. Your ears and the music combine to form a brand new experience. Listen and judge for yourself. But since you asked…
The Intro
Here's what I know about him:
He's a fiercely loyal friend. He's bluntly honest, and a casual re-definer of the term 'minimalist.' He self-admittedly harangues "languages into altered states of Genghis Khan-sciousness" (it goes far beyond this, as the man possesses a frightening control of the English language and the densest personal lexicon I've ever encountered). He likes chicken, potatoes, and shoes. He can tell you who ANYONE sounds like, by giving you their amalgamated celebrity equivalents, and he's in love.
Still Means Something, the second official solo release from Fort Wayne, Indiana's resident fountain-diving pirate lover proves to be a yet another entertaining collection of random thoughts and experiences presented via Sankofa's trademark frenetic delivery. His gruff baritone pulls the listener along for a ride through his life (or near lack thereof), twisting the mundane into the extraordinary and proving that no matter how unremarkable the surroundings, it's really the paradigm through which they're viewed that produces what we might ultimately refer to as art. Sankofa's medium is a 14-track pastiche of multi-syllabic rhyme schemes piled in on themselves to a dizzying degree and then stretched out over the canvas of the poet's imagination.
The Good, the Bad (And More of the Good):
This time around, the bearded wonder plays the role of the wild-eyed Midwestern griot, telling tales around a trash-can fire as the light from the flames dances across his stern features. We're treated to insane stories of unrequited insect adulation and a sickening interest in the dangerously overweight ("Lovesick"), Indiana hip-hop clubbery ("A Night at the Casba"), and substrata treachery in the behind-the-scenes development of Miami Vice ("Stacks of Loot") with the same fervor as we are the prerequisite dismantling of wack MC's ("A Handful of Words" and "Barnburner"). Sankofa attacks all subjects with equal abandon, showcasing a playfulness heretofore unseen in his previous works.
Admittedly, the artist seems more at home and relaxed on this release, but this same strength is also the underlying cause of one of the album's two weaknesses. In fleshing out his MC persona, Sankofa is obviously becoming more at home with who he is, and is not uncomfortable sharing that with the listener. The trouble is that who he is as a person sort of veers away from one of his strengths as an MC; namely a straight-for-the-jugular approach to mic ripping and a voice and tonal delivery that bring to mind the images of H.R. Giger. This more natural Sankofa is not a bad thing, and there are still songs where he's killing it old school style, but he is not completely developed in this new mode, it sounds more like a practice run for the "new Sankofa."
The second weakness lies in the choppiness of the production. Handled entirely by the now retired Fangface (booooo!), the production on the album is driven (and when I say driven, I mean driven, as in there is an unavoidable drive behind the beats, a pace you can't help but move along and nod your head to) by crisply chopped breakbeat drums and Golden Era sample loops. The most comparable sound I can think of is Mr. Lawnge of the Black Sheep. For the most part, the production works well, but for some of the tracks, you can't help but think that perhaps a different sample might have worked better with a particular beat. The result is a production tableau that seems more quilted than stitched, a patchwork rather than a uniform cloth. This seems odd, given that with one producer working on the project, you would expect a more unified sound.
Perhaps these two weaknesses can be combined into one, for in the end, the album doesn't feel like one coherent piece, but rather a hodge-podge of ideas and samples blended together. Do not be mistaken here, the album is good, even brilliant in some places. Just don't go into it expecting a coherent concept album (again, I should stress that "not coherent" and "incoherent" mean different things).
At his best, Sankofa is unrivaled in his ability to verbalize a scene (whether real or imagined), and to encapsulate his thoughts about it in a direct, logical manner. He has a knack for turning the informally banal into the interestingly bizarre. His wordplay is vicious ("A word shark, staying on the DL like Hughley's birthmark/ play the song and be well with truly worked heart"), yet understated, and only through repeated listens will some of the lines actually sink in. Here's more fun with words, off of the DITC-esque "Burn Unit" where he says, "for those who want static, I pack a Van De Graaff generator/ to handicap a panty snatch centered entertainer." Uhhh… check please!
The Verdict
This album is very good, and, as my boy Spon has attested to, it grows on you with each listen. Sankofa has shown growth and progression through each of his eight releases, and this album is no exception. We have a more mature and confident, not to mention, prone-to-singing gay homeless god. Standout tracks include the opener, "Velcro Sneakers," Sankofa's early morning warm-up exercise in verbal calisthenics over the only non-Fangface beat on the album (courtesy of Actuel), "99 Goggles," aka drunken escapades through history (without ever leaving the bar), "The Perpetual Motion Machine," which encapsulates all facets of MC-ing, from grappling with ideas and the act of writing, to performing and grappling with the cheers, jeers, or complete lack thereof, as well as the afore-mentioned skill-fest, "A Handful of Words." The album ends with another Society of NIMH joint, "Barnburner," which is a showcase for Sankofa's stalwarts AthenA and Kashal-Tee and an album that will never happen. But for now, support the tortoise hustle and find out why it Still Means Something. Sankofa discography, lyrics and more uselessly useful info are available at www.obeseamerica.com.
Editor's Note: You can buy 2005's slept-on, truly independent release Still Means Something by Sankofa at CD Baby. While supplies last you can also get this CD for free with purchase of any product at the Oh Word store.
Comments for "Sankofa - Still Means Something"