Kurious - A Constipated Monkey
posted on Sep 19, 2005
Kurious - Baby Bust It (Link Expired)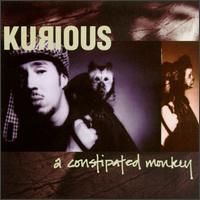 Kurious
A Constipated Monkey
Columbia, 1994
Of all the golden era rap records that are known to inspire feelings of nostalgia in today's jaded listener, it is possible that Kurious' A Constipated Monkey tugs at a b-boy's heartstrings the hardest. This is not due to its impact or quality, but because Harlem's Kurious embodies the naturally positive and joyous attitude that is romantically linked to hip-hop of the past. Such qualities are immortalized in his goofy "Walk Like A Duck" video and are nicely complemented by his everyman perspective. Kurious covers standard ground like getting laid, rocking the mic, and sparking L's, but he also recounts a childhood of poverty and chronicles his longstanding insecurities with a great measure of humility. Like Biggie or Ice Cube, his music is memorable because of its blunt honesty; unlike some of his increasingly obsolete peers he can engage in raw self-expression without adopting a disingenuous gangster or pimp persona.
While "Nikole" is a frank, innocent expression of romantic frustration that even the Pharcyde would be hard-pressed to pull off, listeners should not view the endearing humanity of this album as a sign of weakness. Kurious carves a comfortable niche for himself alongside crony Kadi's account of "the bitches that fuck then swallow the nut" and MF Grimm's talk of a nine-milimeter handgun looking pretty when pressed up against a foe's skull. A Constipated Monkey's many guest collaborations do not result in cutting sessions because Kurious and company work off of each other to create cohesive songs. The album is held together by the production, which comes primarily from the Beatnuts and the Stimulated Dummies, although the album's standout, the reflective "I'm Kurious," is a creation of Pete Nice and Daddy Rich of 3rd Bass fame. For the most part the beats are not mind-blowing, but they are all warm and organic, as is the rhyming. A Constipated Monkey is an uncontrived feel-good album, and for this reason it is remembered fondly today even if it remains overshadowed by several other 1994 releases.
Comments for "Kurious - A Constipated Monkey"