Quasimoto - The Further Adventures of Lord Quas
posted on Sep 19, 2005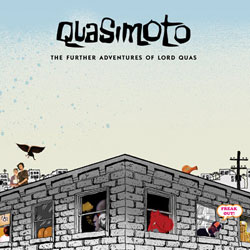 Quasimoto
The Further Adventures of Lord Quas
Stones Throw, 2005
Midway through The Further Adventures of Lord Quas, Madlib and his alter(ed) ego Quasimoto are busy pushing musical dope to fiends. "Any style hip-hop you want… 10 bucks apiece," Madlib offers. "Yo, you can give 'em a deal. Five bucks, they're good customers," Quas interjects. This interlude (from "Raw Deal") reveals the ethos behind Madlib/Quasimoto's craft. The money is nice, sure, but mainly – like a "pied piper in a helicopter" – he just wants to get you high.
Weed is present in every corner of The Further Adventures, like the scent of stale smoke in Madlib's studio. On "Maingirl," Quasimoto recites a list of honeys – think Jay-Z's "Girls, Girls, Girls" on acid – before revealing that his favorite lady "comes in all green, in clear sacks." "Mr. Two-Faced" is an indictment of scheming friends, where "I think you stole my weed" is the most damning accusation Madlib can make. Even the apocalyptic vision of "Civilization Day" incorporates ganja-laced similes: "Revelations is on its way like ya next spliff," Quas predicts. The most obvious ode to herb is "Greenery," which is (unsurprisingly) one of the album's high points. The song sounds like 8-bit boom music, with synthesizer lines spiraling out around stiff drums before the whole track dissolves into a reprise of the pseudo-PSA from "America's Most Blunted."
While some of Madlib/Quasimoto's lyrics are one-dimensional, his beats tell another story. The jazz loops that dominate Quas' debut LP The Unseen are outnumbered here by tracks that draw from damn near everything: "psychedelic record covers, standards / funk, soul, classic rock / electronic palettes." Truth be told Madlib's production is exhaustively eclectic, as evidenced by the sparse congas of "1994" to the Runaway Slave horn stabs on "Fatbacks." Madlib is clearly talented at making beats, but at times he seems to lack a sense of balance or sequence. Faced with the task of putting together an album, he piles on 27 tracks (more if you count the Pete Rock-style beat snippets between songs) with seemingly no regard for structure, coherence, or brevity. It doesn't help that several of the songs are stylistically redundant: "Players of the Game" and "Life Is," for example, use the same combination of a jerky, minimal beat with a sampled vocal hook.
In the end, while the good outweighs the bad on The Further Adventures, there are many moments of mediocrity. This is not Madlib's opus and it's not even the sequel to MadVillainy that many listeners may have hoped for. It would be going too far to say that Madlib is incapable of carrying an album on his own, but nonetheless, the presence of a collaborator to weed out wack beats and streamline the tracklist is sorely missing.
Comments for "Quasimoto - The Further Adventures of Lord Quas"