Sean Price - Monkey Barz
posted on Oct 07, 2005
Sean Price - Monkey Barz (Link Expired)
Sean Price- Brokest Rapper You Know (Link Expired)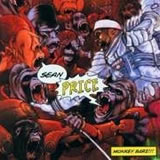 Sean Price
Monkey Barz
Duck Down Music, 2005
In the second half of the '90s, few crews personified wordy East Coast grime better than Heltah Skeltah. Sean Price (p.k.a. Ruck) gained deserved fame for his straight ahead, no-nonsense delivery, highly skillful flows, and knack for writing stylized lyrics that petrify challengers and illuminate the unknowing in the same breath. Although the musical chemistry he once shared with former rhyme partner Rock is legendary, Sean Price is an imposing, arresting microphone presence on his own. On Monkey Barz he displays many of the qualities that first brought him recognition and admiration even as he rapped alongside an exceptionally memorable partner.
Sean's controlled, enunciated, authoritative baritone still serves as a death knell to inferior emcees despite his experiments with more relaxed styles. His greatest current flaw might be his underestimation of his own influence on today's crop of mixtape-prolific studio thugs. At times he goes overboard with the multisyllabic rhyme schemes he once employed more sparsely and successfully. His use of modern slang on the verge of extinction ("bling bling") sounds painfully forced, as does his exhaustive tripartite exploration of love in its redemptive, ambivalent, and spiteful splendors ("Heartburn," "I Love You [Bitch] and "Bye Bye" respectively).
Though he rarely falters on the mic, Sean simply sounds his best when he schools amateur rappers and speaks plainly about grown folk struggles. In this mode, he comes off so nice with his, so convincingly real, and so clearly dedicated to catching wreck that he becomes the focal point of nearly every song, including the better produced tracks (see "Peep My Words" and the title track) and the cuts that feature guest appearances. Even Rock's cameo on "Jail Shit" fades into the increasingly uniform backdrop, a wall of familiar, at times generic 21st century boom-bap sound that just sits still in the corner behind Sean's impassioned verses. The most successfully realized song on this album has to be "Brokest Rapper You Know," a short, somber narrative of triumph in the face of poverty and a brutally sincere yet refreshingly principled theme song fit for a returning hero.
Comments for "Sean Price - Monkey Barz"