Main Source - Breaking Atoms
posted on Apr 11, 2007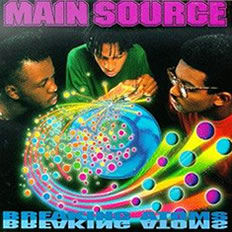 Main Source – Peace Is Not The Word To Play
Main Source – Just Hanging Out
Main Source – Breaking Atoms
Wild Pitch, 1991
Review by Sacha Orenstein
What does hip-hop sound like? While the blues, funk, soul, rock and reggae have all been stretched and reconfigured throughout the decades, purists have no problem identifying each genre's original sound. Hip-hop is a far more slippery style of music to assess, however, as classic records are often defined by the tastes and crates of their producers rather than more traditional creative impulses. For Rick Rubin, hip-hop was sparse electronic drum beats and rock guitars. For Prince Paul, it was wildly varying records assembled together in humorous collages. For Dr. Dre, it was George Clinton's P-Funk robbed of its innocence in the wake of Reaganomics. While the term "real hip-hop" has become a pejorative mark of sonic conservatism, the issue of rap's musical purity remains irritatingly inconclusive and as hip-hop approaches its 30th anniversary as a recorded art form, the question remains. As layers of extraneous influence are peeled back, though, a list emerges of singular, incomparable records that transcend their influences to become indescribable as anything other than hip-hop. Main Source's Breaking Atoms is one of those records.
Ironically, the album's source material is vast and varied. Reggae, psychedelic blues, classic soul and most importantly, funk are all looped and filtered through Large Professor's SP-1200 sampler, but one would be hard pressed to find a single similar record which predates it. The songs on Breaking Atoms achieve a remarkable synthesis sadly absent from most subsequent rap albums: as the half-dozen loops and snippets of music within each song are arranged, they lose their previous meaning and become entirely subservient to the new creation. "Looking at the Front Door," for example, reduces one of Donald Byrd's most pop-minded songs ("Think Twice") to a rumbling low end and re-imagines the hook to the Pazant Brothers' upbeat "Chick-a-boom" as a haunting, unintelligible wail. Whereas most current producers attempt to highlight their sources, cleaning and updating a single old record for revival, Large Professor's muddy, lo-fi production sounds completely alien, almost defiantly divorcing itself from the very elements from which it was wrought.
Justifiably, the beats on Breaking Atoms tend to overshadow the rhymes, but Large Professor's performance should not be overlooked. The album's 10 vocal cuts successfully address a number of subjects with a blend of authoritatively gruff and everyman humor. Devoid of the nihilistic posturing and bleeding-heart positivity that have reduced many a rapper to one-sided caricature, Extra P offers the listener a guided tour of New York's streets circa 1990 complete with tips on how to survive a dice game, a break up, police brutality and a night on the town. Elsewhere, P's bravado more than matches up to that of his contemporaries as boasts that "the mic's [his] instrument and [his] skills are infinite" display a semi-serious mystical edge, entertaining while keeping it street. While never achieving the verbal dexterity of a Big Daddy Kane or a Rakim, Large Professor plays to his strengths, enhancing his atmospheric production with vivid imagery rather than virtuosity.
Breaking Atoms' production style did not emerge from a vacuum. It was clearly influenced by the sampling philosophies heard on De La Soul's 3 Feet High and Rising and the Beastie Boys Paul's Boutique. By building on the innovations of these albums without, the legally-imposed sampling inhibitions of later innovators like Q-Tip and RZA, Large Professor created what could arguably be called hip-hop's most imaginative and unrestrained album. While the producer's later collaboration with his contemporaries DJ Premier and Pete Rock on Nas' Illmatic has proven to be more popular, Main Source's Breaking Atoms stands as Extra P's definitive statement. It is a cohesive, transcendent expression of hip-hop, breaking with musical tradition while mining the past for inspiration. The issue of hip-hop's true sound will likely never be resolved, but one thing remains definite: the discussion itself is irrelevant without a mention of Main Source's debut album.
Comments for "Main Source - Breaking Atoms"