Das EFX - Dead Serious
posted on Sep 19, 2005
Das EFX - They Want EFX (Link Expired)
Das EFX - Looseys (Link Expired)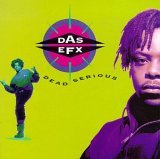 Das EFX
Dead Serious
Eastwest/Atlantic, 1992
The phrase "dead serious" connotes a sense of concise, stern solemnity. Das EFX's debut album is admirably concise, but a perfunctory listen reveals that the title is tongue-in-cheek. Parrish Smith's protégé's are rough and rugged, but their main attribute is their exuberance, displayed in their pop culture littered spiggedy-speech. The EPMD soundalike beats, provided by Solid Scheme, are uniformly dope, perfectly complementing the sometimes spastic flows. These attributes, which made the album so immediately accessible to a wide audience, also proved to be a curse to their career. "They Want Efx," the catchy single that propelled the album to platinum status, also helped spawn numerous imitations, notably on the part of Kris Kross. Faced with biting en masse, Books and Dre mostly abandoned the quirk of speech that had made them famous, but kept the rest of their style unchanged. The public, unable to appreciate the monumental subtlety of the alteration, was not amused, and Das EFX promptly were forced to assume a self-identified role as undaground rappas.
Such a tragic tale of fleeting fame leaves them in good company, and the album does not suffer simply for its novelty popularity. The samples and occasional live instruments are mixed cleanly, and the frequent use of reverb behind the vocals fills the acoustic space evenly, creating a hip-hop version of the wall of sound. The two story songs are well done, holding together the middle of the album and satisfying the quota for songs about explosive, uncontrollable diarrhea. It might appear that the persistently enthusiastic mood of the album is the attribute that most dates it, but the present-day popularity of crunk and reggaeton indicate a continued interest in unabashed party music. Like albums from these current subgenres of hip-hop, every song on Dead Serious sounds the same. What sets this album apart from other fad albums is it sticks to its fun and simple formula without wearing out its welcome.
Comments for "Das EFX - Dead Serious"