Lord Finesse - From The Crates To The Files ... The Lost Sessions
posted on Oct 17, 2005
Lord Finesse - S.K.I.T.S. (Link Expired)
Lord Finesse f. Big L - You Know What I'm About (Original Version) (Link Expired)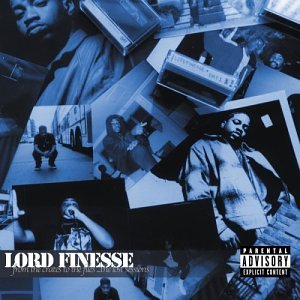 Lord Finesse
From The Crates To The Files … The Lost Sessions
Fat Beats, 2003
Da Bronx's Lord Finesse is at once a deeply impressive and thoroughly disappointing musician. His core audience (or cult following, if you so prefer) reveres him as a founding member of the Diggin' In The Crates collective, a highly accomplished producer and phenomenal emcee, and lastly, the father to Big L's popular and influential multi-syllabic punchline rhyme style. His debut LP Funky Technician (Wild Pitch, 1990) is occasionally acknowledged as a boom-bap classic, but he only released two other full-lengths, Return of the Funky Man (Giant, 1992) and the long delayed The Awakening (Penalty, 1996). Although Return and Awakening were received with lukewarm sentiment and feature inconsistent production, few can deny that Finesse rips nearly all of his verses with unmatched tenacity and technique.
Crates To The Files is thus a godsend for Finesse's faithful but vinyl eschewing fans. The compilation is crowded with previously elusive gems and archived treats and is arguably a more fitting representation of the man's immeasurable skill than his proper releases. While a song like the barely on-beat remix of "Isn't He Something" is notable mostly for its obscurity and the novelty of Large Professor's production cameo, the remix of "Yes You May" and the "original version" of "You Know What I'm About" are some of the hardest and quotable joints of the early 90s. Both songs are positively enlivened by Big L's unsigned hyper flow. Finesse and L sound right at home over these bassy, midnight tracks and their chemistry is reminiscent of a teacher and a reverential pupil even while Finesse smartly stands back and lets his young, starving disciple catch serious career-sparking wreck. "S.K.I.T.S.," which originally appeared on the State of Emergency compilation (Mad Sounds, 1994) sees Lord Finesse at his sharpest and most socially perceptive. He delivers an impassioned and empathetic, if alarmist, expose of urban adolescent criminality over eerily mesmerizing and minimalist samples that resonate with a mournful poignance reminiscent of DJ Premier's remix of Fat Joe's "Shit is Real" from the same year.
The melodic and ethereal "Check The Method" and the relentlessly hardcore "Check Me Out Baby Pah" together illustrate the range and growth of Finesse's sound, but you don't buy a Lord Finesse album for the beats, people! Crates To The Files features Finesse at his smoothest, funniest, and illest, spitting one-liners and unforeseen slang combinations with the overbearing intensity of a raggedy up-and-comer begging a starched-shirt A&R to listen to his pause-tape demo. The way it should be done.
Comments for "Lord Finesse - From The Crates To The Files ... The Lost Sessions"