Pete Rock and C.L. Smooth - Rare Tracks
posted on Oct 17, 2005
Pete Rock and C.L. Smooth "I Got A Love" (Remix) (Link Expired)
Pete Rock and C.L. Smooth - T.R.O.Y. (Vibes Mix) (Link Expired)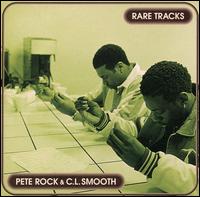 Pete Rock and C.L. Smooth
Rare Tracks
Eastwest Japan, 1998
Be forewarned: virtually none of the songs on this import-only compilation surpass the exponential level of quality found on the beloved Mt. Vernon producer/emcee duo's celebrated albums. However, one should not prematurely assume that Rare Tracks appeals solely to the most fanatical completist. This is Pete Rock and C.L. Smooth after all, and even their b-side remixes and scrapped alternate takes tend to be magnificently produced, painstakingly textured, and lovingly executed rap songs.
Like so many of their talented peers and associates, Pete Rock and C.L. Smooth were versatile enough to strike an unforced balanced between gutter, dance floor, and hotel suite without ever forsaking the main ingredients of their palpable musical chemistry. Vinyl-phobic, R&B detesting fans will appreciate harder versions of respectable ballads like "Searching," and "I Got A Love" while the mackadocious among us will revel in the candelight funk of the "Lots of Lovin'" remix.
The hard to obtain "It's Not A Game" and the thunderous remix of "Get On the Mic" represent pure jeep music that segues nicely into the riotous break-beat hell of "Mecca and the Soul Brother (Wig Out Mix)," which hints strongly at Marley Marl's direct influence on Pete Rock's production techniques. The biggest surprise is the "Vibes Mix" of the all-time classic "They Reminisce Over You (T.R.O.Y.)" which is rolling and pleasant, though not nearly as warm and stirring as the original, and retains its catchiness even after the initial shock of its discovery wears off.
The labor-intensive, competitive nature of sample-based hip hop in the 90s shines through on this compilation. Operating without significant legal restriction, the crate-diggers of New York City were frolicking in a sonic playground, constantly showing off their finds and flipping them in subtly individual ways. The main sample that appears on the remix of "Searching" for example, was also employed by Heltah Skeltah and Showbiz and A.G. around the same time. All of this minutiae, however, is not nearly as important as the fact that Rare Tracks is a consistently satisfying, if inessential offering from an exceptional catalogue, and yet another opportunity to savor the disbanded duo's music.
Comments for "Pete Rock and C.L. Smooth - Rare Tracks"