Rakim - Unreleased Studio Set
posted on Oct 17, 2005
Rakim - I Get Visual (Link Expired)
Rakim - Livin' For The City (Link Expired)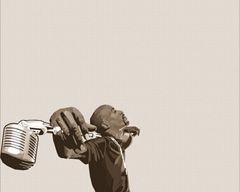 Rakim
Unreleased Studio Set
???
I cannot say for certain where this recording originated or if Rakim intended for these songs to be released or heard in this particular arrangement. I am inclined to believe the title and comfortably assume that it's a demo, or maybe two demos, or at least a demo with some rarities tacked on. My guess is that it recorded in the early to mid-90s, after Rakim's split with Eric B. and his entry into long-term major label limbo. The first few tracks certainly feel like unpolished sketches in need of mastering and any number of professional touches that might make them suitable for airplay or retail consumption. Rakim's furious flows and elaborate rhyme patterns are necessarily the center of attention on brief, jazzy, up-tempo cuts like "Hypnotic" and "You Don't Fool Me."
Since Ra's stellar vocal performance often carries songs, the listener is more inlined to ponder the potential greatness of a completed version rather than to needlessly lament the sonic limitations of the draft. The unsubtle funky break loops of the "original version" of "Don't Sweat The Technique" will never trump the rubbery upright bass of the official song, but only a dispirited hard rock could resist nodding and grooving along. Rough versions of "Pass The Hand Grenade," and "Remember That" sound largely undifferentiated from the official versions and thus act more as a superfluous buffer between the initial, fast rap cuts and the more recent, decidedly mellow and intricate. songs The closing hat trick of "Living For The City," "I Get Visual," and the original "Shades of Black" showcases a steadily maturing, increasingly insightful poet-craftsman flowing beautifully over music that knowingly employs a smoother, more melodic boom-bap. Simply incredible, as can be expected from the god.
Track Listing:
1. Everything's Cool
2. Hypnotic
3. You Don't Fool Me
4. Don't Sweat The Technique (Original Version)
5. Pass The Hand Grenade pt. II
6. Remember That
7. Last Resort
8. Livin' For The City
9. I Get Visual
10. Shades Of Black (Remix)
Comments for "Rakim - Unreleased Studio Set"