Da King & I - Contemporary Jeep Music
posted on Nov 01, 2005
Da King & I - Amusement Park (Interlude 2) (Link Expired)
Da King & I - Krak Da Weazel (Link Expired)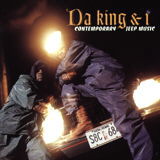 Da King & I
Contemporary Jeep Music
Rowdy Records, 1993
The phrase "Jeep beats" was coined by New York heads obsessed with griminess to connote music best enjoyed in and around the vehicular equivalent of the Timbo hoof. If LL Cool J's Radio defined mid-80s rap while taking inspiration from its quintessential aesthetic and intake method, Contemporary Jeep Music strove to do the same for 1993. Unlike Radio, however, this album failed to make a widespread impact, possibly because it really was contemporary music, a product of its time that drew too much from its time to truly define it. The gutter sound, jazzy samples, and overactive MCing found here showed up on numerous records that year.
But this is not a bad record, nor is it merely derivative. MC Izzy Ice kicks rhymes with an impeccable sense of rhythm, working the purely silly in with the clever and the genuinely complex. Lines like "I sweats no one/ Oh, and did you realize by now, I have more moves than a shogun/ warrior, I'm sorry ya didn't understand/ younger man, as a result I'm floorin' ya" provide tiers of complexity that fly past the listener, only to be understood on later listens. Despite this wordplay-centered approach, Izzy Ice is still able to pen catchy hooks and narrate engaging stories with visual appeal. Majesty's beats, including the instrumental interludes, contain satisfyingly chunky drums layered over choice samples. Appropriate scratched vocals and additional samples on the hooks and bridges display a rare attention to detail. "Krak Da Weazel" manages to excel in both beats and rhymes, despite its unoriginal tale of bitten music and the payback. In addition, the heavily reworked remix "Crack Da Weasel (Dat Other Shit)" flips the script enough to stand on its own.
The source of some of this album-crafting skill may actually have come from ex-New-Jack-Swinger Dallas Austin, who took time away from hitmaking for Boyz II Men and TLC to help oversee the album. He gets a tongue-in-cheek shoutout in the form of a skit in which Izzy Ice gets slapped up for "trying to blow our career" by singing that soft punk smoove shit. While today the notion that a crossover attempt would really present such a threat seems quaint, it was anathema to the jammy-packing, 40-swigging everymen represented on this album. The grittiness of this music was no doubt contemporary in 1993, but it has been well-preserved, suiting Izzy Ice's threat to "[leave] you in the last days of Pompeii."
Comments for "Da King & I - Contemporary Jeep Music"