E-40 – My Ghetto Report Card
posted on Apr 11, 2007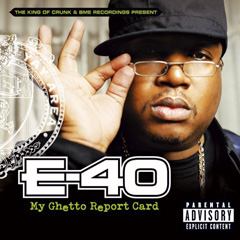 E-40 – Yay Area
E-40 ft. The Federation – Go Hard or Go Home
E-40
My Ghetto Report Card
Warner Brothers/ Sick Wid It/ BME – 2006
Ignored by the mainstream since the West Coast's glory days, E-40 has been an unclassifiable anomaly in rap music for most of the last decade. While his unique style and unquestionable work ethic have earned him a cult following and respectable independent sales, most listeners outside of his native North-California have struggled with his torrential run-on flow and funk inspired Mob music. Thanks to the emergence of a new Bay Area sound and an association with crunk co-signer Lil Jon however, the self-proclaimed Charlie Hustle has not only re-invented himself for the 21st century but has crafted a new local blueprint announcing his region's creative and commercial resurrection in the face of a stagnant national rap scene.
My Ghetto Report Card's success lies both in its innovation and its familiarity as E-40 and his principle producers Rick Rock and Lil Jon slyly use the album to introduce the world to "the Hyphy movement" all while referencing classic Hip-hop. The introductory "Yay Area" for example flips a Digable Planets loop, instantly perking backpacker ears before building into a furiously modern electronic stomp for the Go-Boys. The hit single "Tell me when to Go" meanwhile directly references Run DMC's "Dumb Girl" with both its clever sampling and its sparse Larry Smith inspired drum programming. Rather than self-conscious nostalgia, these tracks capture the immediacy and freshness of early Hip-hop, defining Hyphy as California's answer to 80's rap rather than the west coast crunk it's unfairly been pigeonholed as. While the high-energy aesthetic may put off listeners preferring laid back head-nodders to trunk-rattling slappers, anyone missing the intensity and anything-goes originality of rap's first golden age will instantly connect with this new incarnation of California rhyme. Additionally, the move towards lively minimalism from slow and syrupy funk has rejuvenated E-40 himself as his spitfire vocals bounce off the percussion with a long absent ferocity. Previously accused of cramming too many syllables per bar, 40's cadence is perfectly suited for this new setting and his bravado-based lyrics will have more than one convert reaching for the rewind button to catch his hustling based punch lines.
The album has its flaws, faltering in the back end due to useless skits and a few too many southern crossover attempts, but this filler is easily ignorable and is inconsequential in the age of skip buttons, CD burners and I-Pods. Showcasing an all-star cast from the under appreciated Bay Area including show-stealers Keak Da Sneak, Turf Talk and the Federation; My Ghetto Report Card makes a case not only for E-40, but for Hyphy as a whole, presenting the movement as fun, diverse and not nearly as "dumb" as it would claim. Those looking for deep thoughts and complexity would do well to look elsewhere, but with so many early classics eschewing those traits in favor of party rocking rhymes, it would be hypocritical to lambaste E-40 for bringing this style back to rap's forefront. While it remains to be seen if Northern-California can make inroads with the mainstream, E-40's major-label comeback stands as a highpoint from the resurrected Bay and serves as a great introduction to the emerging Hyphy movement. Look out pimp!
Comments for "E-40 – My Ghetto Report Card"