Intuition - Stories About Nothing
posted on May 02, 2007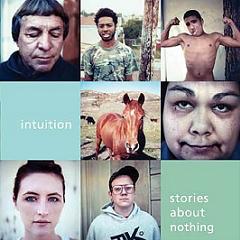 Intuition – Destiny
Intuition – Outside
Stories About Nothing is an unlikely and thus welcome success; I can honestly say that it is among the most refreshingly original albums to attract my attention in recent years, an effort that stands out on every level. Emcee Intuition's rapping voice is fairly distinctive: it is nasal yet froggy and inflected with bumpkin twanginess even as he overenunciates his lyrics. Though his vocal timbre is idiosyncratic, Intuition flows effortlessly over Equalibrum's vibrant and layered production, complementing the tracks so well that the oddness of his voice quickly takes on a genuine charm.
Intuition's marriage of technical precision and raw feel suggests that he possesses both the patience of an eager student of successful rap styles and the confidence of a practiced virtuoso. To his credit, he places nearly equal emphasis on style and substance, and uses his wit and charisma to elevate simple tracks with obvious appeal like the funky, wistful "Bye Bye Baby" and the stripped-down burner "Head In The Clouds" into engaging anthems worth rewinding and quoting.
Perhaps most impressively, Intuition's rhymes teem inexplicably with the kind of effervescent appeal (flavor, if you will) that I tend to associate with the party rockers of the '88-'92 era. This swagger is ironically most apparent on songs where Intuition eschews clever boasts arranged in multisyllabic rhyme schemes for narratives populated by a bizarre cast of characters who are rendered so palpably human that they seem familiar in their provincial strangeness.
Intuition's conflicted narrator is the true star of this show, an audibly anxious and reluctantly omniscient storyteller of old who guides us on a journey through a heartland that is picturesque, quotidian, depressing, and magical all at once. Stories is admirably diverse: inspirational odes like "Forget Today" and scrupulous character sketches like "Outside" feel right at home with sprawling, melancholic meditations like "Paint The Dawn" and comical anecdotes like "Destiny." Paired with Equalibrum's fierce drums and brilliantly arranged samples, Intuition's narration, neither smugly omniscient nor pedantic, constitutes a true innovation in the field of rap storytelling, and Stories must be considered a contemporary gem dropped into left field.
Comments for "Intuition - Stories About Nothing"