Real Live - The Turnaround: A Long Awaited Drama
posted on Nov 01, 2005
Real Live - Ain't No Love (Link Expired)
Real Live - Crime Is Money (Link Expired)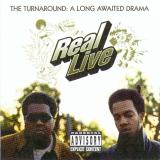 Real Live
The Turnaround: A Long Awaited Drama
Big Beat, 1996
The Passaic, New Jeruz native and disciple of Marley Marl known to the world as K-Def could not have chosen a more appropriate year than 1996 to drop his full-length collaboration with Larry-O. Before Real Live was formed, K-Def honed his talents on a number of projects overseen by Marley Marl, including lauded efforts by Lords of the Underground and Da Youngstas. In his early catalogue, he often anchors soaring, majestic, even atmospheric arrangements and movements with plodding, molasses-thick lower end sounds. His trick is to do this in a manner so refined and sensitive to balance and form that the final result feels both otherworldly and warmly familiar. Although his music is rarely groundbreaking, it is tailored and sculpted quite daringly even in its precision, and it represents a euphonious, if unexpected departure from Marley Marl's essential griminess. One gets the impression that K-Def labors to nail down hip hop's truly "classic" (or even "classical") sound without surrendering to the temptation to give the people exactly what they want at the moment.
When Larry-O blesses K-Def's meticulously crafted beats with his pensive and embattled criminal persona, the result is music that easily transcends the tired '96 formula that pairs squeaky clean radio-bound tracks with lyrical content that wavers between gutter explicitness and high-life decadence. At the time many hip hop producers were content to mimic the booming orchestral beats of Buckwild or the instantly recognizable, whistle-clean pop ditties of Puff Daddy. K-Def and Larry-O stand out because they create smoldering, cinematic gangster symphonies as a matter of course, and this is evident in the frantic car chase of the title track and the dramatically funky "Pop The Trunk." Their music is spellbinding yet cohesive, their chemistry is rehearsed to perfection but feels unforced, and the overall vibe of Turnaround is cool and focused even though the music exudes bombast and the lyrics celebrate excess.
Larry-O's unshakeable seriousness and K-Def's commitment to crafting a unified sound for the album while showcasing his versatility allows tracks like the spacey and funky "Crime Is Money" and the deeply soulful "Trilogy Of Error" to coexist peacefully. There are a few songs that approach mediocrity but several carefully placed interlude beats keep the show moving. The album falls just shy of greatness because Larry-O, for all of his authenticity and competence, is hardly a rap-noir genius of Rakewons's rank. However, his reflective and mournful verses on the immaculate and majestic "Ain't No Love" drip with sincerity and skill and match the thoughtful elegance of K-Def's beautiful beatwork. Though it is mired in obscurity, Turnaround should not be denied a month-long stay in your tape deck.
Comments for "Real Live - The Turnaround: A Long Awaited Drama"