Large Professor - The LP
posted on Nov 01, 2005
Large Professor - For My People (Link Expired)
Large Professor - Get Off Dat Bullshit (Link Expired)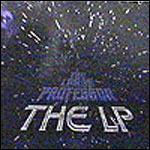 Large Professor
The LP
A poorly-pressed vinyl edition of Large Professor's shelved solo album (originally slated for a 1995 release on Geffen) made rounds on the bootleg circuit in the late 90s, generating even more hype for the long-awaited magnum opus by the genius behind the Main Source. However, it was not until the CD version was given away with online orders of Large Pro's poorly received 1st Class (Matador, 2002) that The LP was given a remotely fair chance to shine. It might have been worth the wait, though – The LP is every bit the classic you pined for since 1993. The musical promise and innovation, (if not necessarily the surprising lyrical acumen) that Large Pro displayed on Main Source's Breakin' Atoms is present on this album, and he even lets his guard down to craft a more eclectic range of sounds.
The album gets off to an incredible start: "Listen (Blast Off)" sees the veteran flow slowly and matter-of-factly over a simple, down-tempo track powered mostly by bass-heavy drums. Nas drops a gem for the ages on the somber but too brief "One Plus One," and Large Pro comes off believably rough on the much louder and faster "Hard." "Spacey" is deeply funky jeep music and as it's title suggests, sounds like a future-minded update of the Breakin' Atoms sound. "For My People" is sweetly melodic yet hard enough to evoke the fusion-jazz inspired, nearly mystical vibe that permeates A Tribe Called Quest's Midnight Marauders (an album rife with studio contributions from Large Pro). The most impressive track, both lyrically and musically, might be "Get Off That Bullshit," which flips a Cannonball Adderly jam into a denunciation of move fakers great and small.
The LP is not without its missteps: "Have Fun" and "Dancing Girl" are forgettable, frivolous filler cuts on an album packed with stoic seminars in crate digging. The two tracks that were released on 12", the mixshow classic "Ijusswannachill" and "The Mad Scientist" were warmly welcomed a decade ago, but today sound humdrum in comparison to the album's better tracks. On the majority of The LP, Large Pro sounds a bit too subdued on the mic, and listeners looking for verses as venomous as those on "Snake Eyes" will be disappointed. Most of the hooks are unintentionally hilarious repetitions of the song's title. Die-hard completists may very well lament the inexplicable exclusion of the posse cut "Queens Lounge." And yet, despite these flaws, The LP nearly lives up to its legend and proves to be a treat for any Main Source fan.
Track Listing:
1. Listen (Blast Off)
2. One Plus One
3. Hard
4. Spacey
5. For My People
6. Dancing Girl
7. Hungry
8. Get Off That Bullshit
9. Funky 2 Listen 2
10. Have Fun
11. Ijuswannachill
12. The Mad Scientist
Comments for "Large Professor - The LP"