Ras Kass - Soul On Ice demo
posted on Nov 01, 2005
Ras Kass - Everything I Love (Link Expired)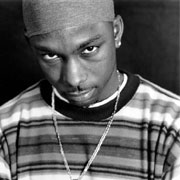 Ras Kass
Soul On Ice (demo)
Unreleased
Ras Kass's debut LP Soul On Ice was unilaterally acclaimed for the biting social commentary and virtuosic wordplay contained in its lyrics. The flip side of such zealous adulation was a nearly universal, largely unjustified condemnation of the album's uninspired but adequate production. The songs contained on the lo-fi Soul On Ice "demo" were allegedly scrapped from the final version of the album – rumored reasons include uncleared samples, label politricks, and beef with former Western Hemisfear crewmates. In any event, the songs on this "demo" are as gritty soundwise as they are sardonic in tone. Ras mercilessly rebukes record company low-lifes and the powers that be over production that I presume to be the work of Bird and/ or Voodu and resembles a West Coast adaptation of Buckwild's stark, highly filtered soundscape. His brainy, engaging verses are dotted with wry scatological puns and moved along steadily by his vicious, fluid, on/off beat delivery. This much should come as no surprise to fans familiar with his released work. However, Ras sounds more at home (and a bit less refined) over these muddy beats than he does on some of the lighter fare found on the official version of Soul On Ice.
The relaxed and yet ominous "Remain Anonymous" (which eventually found its way to 12") features devastatingly funky bass sounds and some of Ras's illest one-liners; the gloominess of the music is counterbalanced by the emcee's likable and deserved arrogance. Similarly dark affairs like "High IQ" and "Core Audience" seem to bleed into one another and probably gain an a element of rawness from the poor mixing. Conversely, "Everything I Love," which contains lyrics later incorporated into "Reelishymn" from the proper Soul On Ice release, strives to capture a lush and bittersweet sound to supplement the embattled tone of the lyrics. The songs on this demo do not necessarily represent a cohesive whole, nor do they constitute a hidden opus, but it's always great to hear more from the renowned lyricist who never quite got his big break.
Track Listing:
1. Everything I Love
2. Core Audience
3. High IQ
4. Won't Catch me Running
5. Capital R-A-S
6. Blood Is Thicker Than Water
7. Interlude
8. Take A Deep Breath
9. Remain Anonymous
10. Take A Deep Breath (remix)
11. Walk The Walk
Comments for "Ras Kass - Soul On Ice demo"