Snowgoons - German Lugers
posted on Jul 18, 2007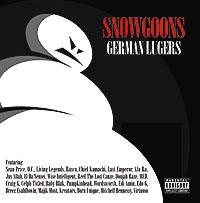 Snowgoons featuring Sean Price, Jus Allah & Doujah Raze – Gunz
Snowgoons
German Lugers
Babygrande, 2007
If this had dropped in 1999 it would have been the shit. Back then, guys like Last Emperor and Afu Ra actually had fans. The problem is, kids who used to cop underground boom-bap have abandoned it for independent rock. DJ Waxwork and DJ Illegal are German though, so maybe they only just caught on to the indy rap explosion. Truth be told, things start off pretty well, as the 'Goons' JMT/Non-Phixion-influenced production boasts tight drum programming and orchestral drama out the ying-yang, which seems to be what the kiddies are into these days. Reef, Celph Titled, Sean Price and Jus Allah all present strong arguments, and a solo turn from Wise Intelligent over a buttery loop only serves to strengthen the case. But just as you settle in for the ride, it all goes to shit. Suddenly we're expected to endure guys like El Da Sensai and Baby Blak, who weren't much chop in their heyday, and are even less so now.
Read more of Robbie at Unkut.com
Comments for "Snowgoons - German Lugers"