Grim Team - Once Upon A Time In America – The Prequel
posted on Jul 18, 2007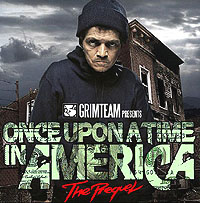 Grim Team
Once Upon A Time In America – The Prequel
2007
Any tape with Milano, Smiley The Ghetto Child, IM3, Kamazee and Boss Money Gangsters involved is off to a good start. Granted, this isn't a "tape" anymore than the print version of a magazine is a "book", but language is kinda screwy like that. Not that this is producer Chaze's official album, but it's a worthy opener all the same. He doesn't amaze in terms of hard drums or incredible loops, but neither does he squander the vocal talent he's assembled, as some of NY's finest street-level rapper dudes (word to Bill and Fame) flex over a solid bunch of eighties rock and soundtrack-infused productions.
I could complain that Prospect's "BXNY" rides the same loop already heard on last year's Mathematics and Bronze Nazareth albums, or that an otherwise superior Infamous Mobb team-up is undermined by a painfully sung hook, but the overall gritty feel of this project cancels out any minor complaints. In fact, the only really awful moment is the appearance of Turtle's former pal Saigon, who foolishly tries to bring some "punk smoove shit" to the table, when something along the lines of "The Letter P" would have been more appropriate.
If nothing else, this project is mercifully free of anything even remotely connected to Yonkers, which is always good news. Even the most casual supporter of non-progressive Bridge to BX rap will be convinced of the Grim Team's qualifications, but if you're after something a little more challenging then I recommend you quit pretending to be a rap fan and throw yourself in front of a cab.
Robbie runs Unkut.com and owns your soul.
Comments for "Grim Team - Once Upon A Time In America – The Prequel"