PHD (Poet & Hot Day) - Without Warning
posted on Sep 19, 2005
PHD - I'm Flippin' (Link Expired)
PHD - Pandemonium (Link Expired)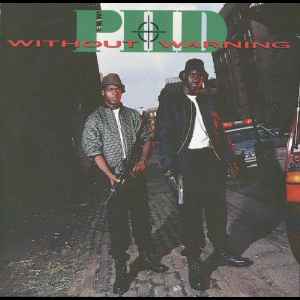 PHD (Poet & Hot Day)
Without Warning
Tuff City, 1991
Coming out of Queensbridge, Poet would have you believe that he is the most dangerous MC in the world. Several years after defending the honor of Queens in a showdown on wax with BDP, Poet takes his listeners on a comical yet convincing tour of a QB landscape that is cartoonishly violent. With the unsmiling, measured coldness of Parrish Smith and the colloquial clarity of rival KRS-One, Poet obliterates lesser emcees, corrupt cops, and damn near all of his detractors in concise verses devoid of mystical jargon or superscientifical abstraction. This is not to say that Poet's raps lack social insight or poetic guile. He simply prefers to convey his worldview in what he believes to be a more immediately comprehensible manner. Oddly, it is during these straight-ahead diatribes that his eccentricity is most apparent. On the perfectly titled "Tell It Like It Is" his front stoop political commentary quickly assumes the shapelessness of wonderfully unapologetic drunken digression.
Without Warning can be viewed as a portrait of a man whose surroundings are so hopelessly blighted that the cultivation of a paranoid, overactive imagination proves to be liberating, even empowering. We are left with a subtly stylized but enraged confrontation with reality, the type of slang editorial that is often mistaken for the stark literality of news correspondence. Cuts like the murderous LP version of "I'm Flippin'" and the viciously apocalyptic "Pandemonium" build vividly on themes and concerns related to daily survival, be it moneywise or physiology. Producer Hot Day's beats, save for a couple of ineffective stabs at party jams, are hard, deeply funky, and swing just enough to sound strangely jubilant underneath Poet's venomous verbiage.
Without Warning is one of the least affected slice-of-Queensbridge-life documents available for our perusal and analysis. Its accessibility is partly a function of timing, as it was recorded several years before musical mentors like Large Professor and Q-Tip chose to unite the Q-borough's disparate artistic sensibilities into their disciples Mobb Deep's singularly penetrating ghetto exposition The Infamous. While Without Warning might sound and feel somewhat dated by now, especially in comparison to Poet's recent work as a soloist and as a member of Screwball, it is essential listening for fans of the QB sub-genre/movement and stands out as a brutally honest, if eccentric, depiction of inner city strife.
Comments for "PHD (Poet & Hot Day) - Without Warning"