Troubleneck Brothers - Fuck Y'all
posted on Nov 01, 2005
Troubleneck Brothers - Fuck All Y'all (Link Expired)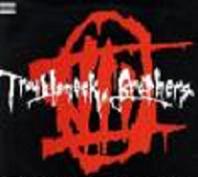 Troubleneck Brothers
Fuck Y'all
Bronx natives the Troubleneck Brothers are best remembered for their 1994 sleeper hit single/video "Back To The Hip-Hop," a flavorful, nostalgic ode to their halcyon boyhood days lived before they signed on the dotted line. In the ears of many a Bad Boy-despising ol' skooler, this song (and others like it from artists such as the Artifacts, Common, Dred Scott, hell even Tupac) seemed to call for a revival of older (presumably circa '88) production values, lyrical versatility, and even a broadly defined artistic ethos. Now that 1994 is often considered to be the latter part of the canonical "golden age" of rap, such songs have taken on a mythic afterlife among throwback fiends. Before unwittingly contributing to hip hop's romanticist movement and doing a bid in major label purgatory, the Troubleneck Brothers put out an entirely independent tape-only album that exudes plenty of amateurish charm to compensate for its forgivable lack of top-notch skill.
As its title suggests, this effort remains contentedly mired in the rags-to-riches come-up narratives perfected by contemporaries like Pharcyde, Leaders of the New School, and the Bush Babees. The borrowing is not confined to song concepts or overarching themes. The obstreperous choruses and chants, frantic flows, and playful, adolescent vibe that characterizes the majority of Fuck Y'all owes a lot to those aforementioned crews. The beats are hardly innovative, but they are surprisingly dynamic. On individual songs, funky breaks are often switched up from verse to verse, presumably in an attempt to help the listener distinguish between sound-alike emcees. The combination of an overpopulated rap crew and simplistic, practically predictable beats makes the entire album a chore to sit through. At its best, Fuck Y'all feels a lot like GZA's pre-Wu Words From the GeniusLP, minus the polished, inventive rhyming. This should not be taken as a dis but rather as a caveat to those hip hop junkies who are quick to assume that an unearthed work is likely to include flashes of brilliance. But please be sure to play this at least once for the sheer fun of it.
Comments for "Troubleneck Brothers - Fuck Y'all"