DJ Muggs Vs. GZA/ The Genius - Grandmasters
posted on Nov 23, 2005
DJ Muggs Vs. GZA/Genius - Exploitation Of Mistakes (Link Expired)
DJ Muggs Vs. GZA/Genius - Queen's Gambit (Link Expired)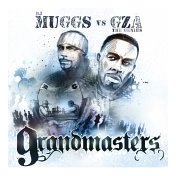 DJ Muggs vs. GZA
Grandmasters
Angeles Records, 2005
Neither the renowned DJ/producer nor the renowned master of ceremonies requires an introduction. Most attempts at honoring their legacies would prove insufficient anyhow. Both GZA and Muggs have maintained visibility and garnered unending acclaim during their complete, illustrious lives and after-lives in the rap game. Their respective careers span practically every documented phase of artistic/commercial development from humble bedroom beginnings to unprecedented popular ascension to latter-day repose in the shade of cult following and critical acclaim. Neither is ready to exit nor barreling down the slippery slope to obsolescence.
For GZA, Grandmasters often plays like a career memoir, a middle-aged revisiting of the exhaustive poetic tactics and thematic fixations (war, murder, revenge, redemption, etc.) that shaped his public image as an enlightened but ferociously competitive wordsmith. Muggs' beats are replete with the kind of twinkling piano riffs, disturbingly distorted and dusty funk samples, eerie female vocal snippets, and peculiar high-end sounds that RZA might have tossed into the stew during the studio sessions for Liquid Swords.
For all of its throwback appeal, however, Grandmasters is still a fresh and exciting work: do not blindly assume that GZA merely regurgitates his old styles or that Muggs finds lazy contentment in impersonating The Abbot for twelve songs. On cuts like the doleful yet hypnotizing "The Queen's Gambit" and the desolate, sweetly macabre "Exploitation of Mistakes" GZA drops page-turner narratives over creepy, minimalist tracks. His omniscient attention to the dreary details of his idiosyncratic and highly flawed characters is matched by an uncanny, almost weary delivery that comes across like a b-boy-inflected Vincent Price or a rappin' Rod Serling. The spooky vibe is a cake-walk for Muggs, but his beats have not sounded this foreboding since Temples of Boom.
In the past, GZA made his involved storylines and brainy conceits accessible by casting explicitly opposing forces and personas in heated combat or riffing on double entendres. Now his verses are populated by fictional beings only a bit less strange than the freaks and weirdoes we pass every day. It is this subtle alteration in approach that causes Grandmasters to stand out in a sea of overproduced albums whose messages (read: egotistical grandstanding) seem heavy-handed even when they are not especially substantive. And if all this logic and theory is too much to take in at first, high-powered rap bangers like "All In Together Now" and "Advance Pawns" will keep the heads noddin' and leave the rewind button fatigued. This is easily the best rap album released this year.
Comments for "DJ Muggs Vs. GZA/ The Genius - Grandmasters"