Queen Latifah and the Original Flavor Unit
posted on Sep 19, 2005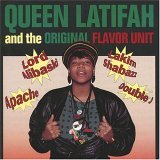 Queen Latifah and the Original Flavor Unit
S/T
Tuff City, 1990
Don't let the title and the packaging fool you: although Queen Latifah is featured on two tracks and appears to be the intended selling point of the record, this is DJ Mark the 45 King's show. His signature hard-bop, arguably New Jeruz's greatest contribution to hip-hop, seeps into every second of this compilation, including the two songs that are not officially credited to him. Knowing what we now know about his uncredited work on records such as Eric. B. and Rakim's Follow the Leader, we can safely assume that the 45 King had the final say on every bar rapped, every mixdown completed, and every ad-lib barked into the popper-stopper during the sessions for his Flavor Unit's album. We might hear Lakim Shabazz's unwavering baritone find a home over Maceo Parker's (yes, the Maceo Parker) live horny horns but deep down we know that our generation typically encountered the funk-soul sensations of yore through the modernizing, clarifying filters of basement chemists like Marley Marl, DJ Premier, and of course 45 King.
Mr. Parker's cameo, every bit a "loop" as any four-bar beatjack, functions not as a tribute to an aging pioneer or even a call for the revival of an older artistic vision, but a future-minded affirmation of the generative, cyclical, necessary quest for that ol' next shit. Just as Lakim's 5%er hymns chart the refinement of a mind that goes from "contaminated" to "animated," Mark demonstrates how to put neglected and overlooked vinyl treats to good work. Blessed by emcees who take their rapping as seriously as they do their 120 Lessons, tracks like Lakim Shabazz's "Pure Righteousness" and Lord Alibaski's "Top Gun" comprise an exercise in stonefaced yet danceable hip hop.
The songs on this record are as jubilant as they are hard, constructed as they are by a man with the vision to mold several seconds of Marva Whitney's "Unwind Yourself" into "900 Number," East Coast rap's most infectious party tune, and then proceed to record a version topped with Lakim's righteous vocals for the heads to analyze. With ferociously resonant, science referencing, internal rhyme addicted, sometimes indistinguishable emcees on the mic, the Flavor Unit party joints can seem like the soundtrack to a Five Percenter Parliament. The emcees are not entirely indistinct or overly stern—Lakim often switches inflection and tempo during the course of his vocabulary spills, Alibaski talks a great tough game, and Apache is something of a punchline-happy wiseguy—but they often sound remarkably, militaristically alike.
This melding of proximate tones and cadences parallels Mark's alchemical transformation of beautifully understated snares and kinetic bass-lines into gargantuan, noisy beats. This in turn mirrors the Flavor Unit's implicit attempt to gradually funk up the seminar until it's practically a park jam. The integrity of the mission is perhaps most validated by the reality that the spectacular posse cut "Flavor Unit Assassination Squad" never achieved the dancefloor notoriety of unsubtle knowledge drops like " "My Melody." Instead, it perseveres as a slept-on classic that outlives many of its lesser derivations, while this nearly flawless album patiently waits for a new generation to get wise.
Comments for "Queen Latifah and the Original Flavor Unit"