Strickly Roots - Begs No Friends
posted on Nov 29, 2005
Strickly Roots - Duck Da Boyz (Link Expired)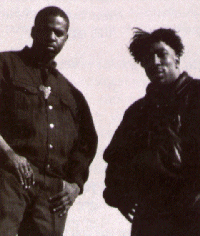 Strickly Roots
Begs No Friends
Friends Connections Productions, 1993
The Bronx boys known as Strickly Roots (emcees Broadway and RMR) dropped Begs No Friends around the same time that upstarts like Onyx and M.O.P. were puncturing East Coast eardrums with that grating, hyperbolic hardcore sound that you either loved or despised. Though Broadway is downright intimidating with his bizarre, gravelly, patois-tinged slur and RMR comes off hard like a criminal, they spend more time affirming their musical authenticity than killin' everybody in sight. There are a few crime tales and violent threats here and there but the grittiness of the production serves more as an energizing backdrop for SR's manifestoes of artistic integrity than as aural street cred. Overt political commentary is infrequent. The duo instead prefer to use their soapbox to play up their West Indian heritage, Bronx address, and Zulu Nation affiliations while censuring rappers who do not meet their puritanical expectations of rootsy realness. Still, the emboldened stances on the preservation of the art form, coupled with the reggae influence, is reminiscent of the noise that Poor Righteous Teachers was making at the time, and that's a good thing. This is street consciousness devoid of ghetto glorification.
With that said, the anti-cop "Duck Da Boyz" is the most playable song on the album, stripped down and dirty but nonetheless an enticing, satisfying groove with a great hook. Its hulking bassline comes to represent beat cops in hot pursuit after just a few bars. The LP is not without its weak spots: the smoov neva rugged, non-descript title track (which was later remixed and substantially improved by guest verses from Fat Joe and Grand Puba) is especially devoid of edge. As is the case with Double XX Posse's Put Ya Boots On (Big Beat, 1992) one senses an uncomfortable lack of cohesiveness in the hodge-podge of tracks that are either submerged in the '93 gutter aesthetic or stuck in a speedy '89 speedy tempo. The sequencing of the album does not help matters, as the listener is whisked back and forth between two competing eras of sound with little hope of achieving a happy medium. Truth be told, Begs No Friends hardly constitutes classic material or essential listening, but much like efforts by The Legion and others, it is valuable and endearing enough simply because its time has passed.
Comments for "Strickly Roots - Begs No Friends"