Natural Elements - The EP
posted on Nov 29, 2005
Natural Elements - Live The Life (Link Expired)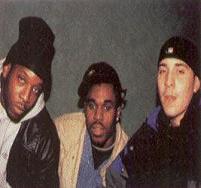 Natural Elements
The EP
Fortress Records, 1993
In the late 90s, the tri-borough representatives known as Natural Elements (emcees Mr. Voodoo, L-Swift, A-Butta, and producer Charlemagne) got their props the old-fashioned way: continually catching antemeridian wreck on the illest mixshows and dropping red-hot singles both as a group and as soloists. The youthful emcees rose rapidly to the apex of their careers and crashed hard after Tommy Boy shelved their debut full-length. Before this drama, unfolded NE dropped an impressive, foundational EP. Surely, the young incarnation of NE are bona fide products of their era. There is something very Black Moon about the bleak ghetto poetics of "Cock It Back" and "Set It Off," for example. However, NE rhyme in a more precise if verbose-to-the point-of-nerdy style. This is not to say that they come off soft – Voodoo in particular boasts a vicious cipher-ready flow- but the fluidity and swing that is evident in their rhyming is controlled by tight reins and supplemented by Roget's Thesaurus. Imagine a cockier, younger Jeru the Damaja minus the Rasta-Godbody shtick and forever at war with truant officers. Yet despite their simultaneous over-adherence to their own juvenile techniques and indulgence in obstreperous bravado, this EP is filled with instances of levity and eccentricity.
The NE are just quirky enough to ingrain their flows into your memory even if they don't venture far from their comfort zones. Charlemagne (who went on to produce songs by Capone-N-Noreaga, Jay-z, Puffy, Cam'ron, and others) layers tracks that are ominous yet polished, sinister but inching in the direction of crispy and clean, reminiscent of contemporaneous beats rocked by Finsta Bundy. Sampled instruments share space but stand apart in their collusion rather than tangling into a hopeless knot of crunchy noise. Mischievous horn riffs augment the fly swagger of "Live the Life," while the snaking, transfixing bass of "I Mean This" implores listeners to hit rewind even after listeners' minds are blown. "69 Caddy" is the kind of misguided homage to g-funk that was somewhat common at the time (perhaps constituting a threat as menacing as "hip-house" some years earlier) and should be skipped altogether. The NE sound best when they use their pineal glands to chop off domes over gutter tracks that sparkle just enough to garner the attention of hard rocks and party people alike. Fortunately, the bulk of this short recording sees them doing just that.
Comments for "Natural Elements - The EP"